Visiting Château de Môtiers: Where BOVET 1822 Transformed Its History Into Modern Watchmaking
Watch manufactures where genuine, historic watchmaking know-how is practiced and passed on are magical places. Likewise, historic castles built on top of rocky mountains have a unique charm of their own. In an exceedingly rare constellation of horological appreciation, entrepreneurialism, and good fortunes, Bovet's Château de Môtiers is a singular, yet welcoming location that combines the very best of these two exceptional places. Let us take a step inside and learn about the remarkable story of a stone castle and its owner, both truly and deeply dedicated to fine watchmaking.
"This year marks 20 years of Mr. Pascal Raffy's passionate ownership of Bovet – a historic watchmaking company that he took from four employees to a vertically integrated, all-capable manufacture in haute horlogerie with a 148-strong team spread out across 42 different watchmaking skills."
From unique movement and dial manufacturing processes to the design and production of hairsprings and regulating organs, Mr. Raffy's first decade at the helm of Bovet saw the completion of a scarcely matched transformation in the world of haute horlogerie. On our last trip to Switzerland, we sat down with him to talk about the past, present, and future of Bovet – and, having barely settled down and received an espresso, we were already talking watches as he radiated with his signature, deep-rooted love for all things watchmaking — and an absolutely immense dedication to Bovet.
aBlogtoWatch: Bovet's home, the Castle of Môtiers, I think, is exactly how one would imagine a Swiss castle built into the side of a mountain. It's picture-perfect. One would, therefore, also think that this is heirloom material, utterly unattainable for anyone other than whose name is already atop the gates. Please tell our readers the unique story of how you helped Bovet return to its roots.
Mr. Pascal Raffy: As I was collecting timepieces – not collecting only Bovet, of course – I discovered this house. 133 timepieces per year with beautiful watchmaking – even though Bovet didn't have any proprietary facilities at that time. After I took over the house of Bovet in 2001, by pure passion and our work has begun, it was the year 2006 that marked the true turn of events. The state of Neuchâtel called us and said, "We have a castle to sell, Mr. Raffy." We replied, "With all due respect, we are dreaming of new facilities – not castles." However, they insisted so much, we ultimately decided to go and see the offer for ourselves. Throughout the drive, we [with Barbara Soleyman, directress of Bovet] were thinking it was not going to be the right size nor the right place for what we had in mind – a little, beautiful watchmaking production where our craftspeople and artisans can perform their best work.
"We arrive and Barbara is given a folder that she looks into and, alien to her style, she closes it violently and starts laughing. She says: »I know why we are here.«"
"It was written that the Castle of Môtiers has been offered by the Bovet family to the state of Neuchâtel and then the minister of economy said: »Call Mr. Raffy, he will like the idea and he wants the House of Bovet to go back to Fleurier, to Môtiers (which is the same administrative district since 2009)« And so, how could I say no to coming back to the address of Bovet's origins?"
Bovet's home, the Château de Môtiers, is a classified historical monument that overlooks the villages of Môtiers and Fleurier and the entire Val-de-Travers — the historic cradle of the company and a hub of modern watchmaking today. Built in the early 14th century by Rodolphe IV, Count of Neuchâtel, the château was successively occupied down through the centuries by the lords of the valley. In 1835, the State sold it to Henri-François Dubois-Bovet, and the descendants of the Bovet family, in turn, donated it to the Canton of Neuchâtel in 1957.
Still down in the valley of Val-de-Travers, navigating through one tiny village after the other, one is to follow small Bovet-Dimier signs en route to this hidden gem of watchmaking. Occasionally, the château, with its stone towers, red roofs, and massive window-pane atelier peaks through the trees and rocks of the hillside that serves as its supporting foundation and main source of security. And when you feel the route could not get any more adventurous or any more deserted, a massive rock splits the road into two and you find yourself at the very base of the castle — a proper, genuine, six-centuries-old castle surrounded by and built on top of steep walls of gray rocks, accessible only through a narrow bridge and a yet narrower gate. Mind you, neither of these have been widened during the all-encompassing reconstruction of the castle so that they continue to serve their original function and provide an extra layer of security.
Following the 2006 reacquisition, the 5,800 square-meter (62,000 square-foot)  Château de Môtiers was fully remodeled and renovated in an effort to make it serve multiple goals: to function as an essential facility in the fully integrated world of Bovet-Dimier manufactures, to maintain the historical genuineness and importance of the location, and to serve as a place of hospitality for the guests of the watchmaker. Consequently, the castle comprises two distinctly different buildings. The single-story building encapsulates the living quarters of the brand's owner and creative driving force, Mr. Pascal Raffy, as well as a fantastic presentation room where customers of the brand are welcomed with a vast view of the valley and an exhibition of select pocket watches and wristwatches from Bovet's history. The large, square, stone tower is attached to this building, as well — one that has been part of the Val-de-Travers landscape for centuries.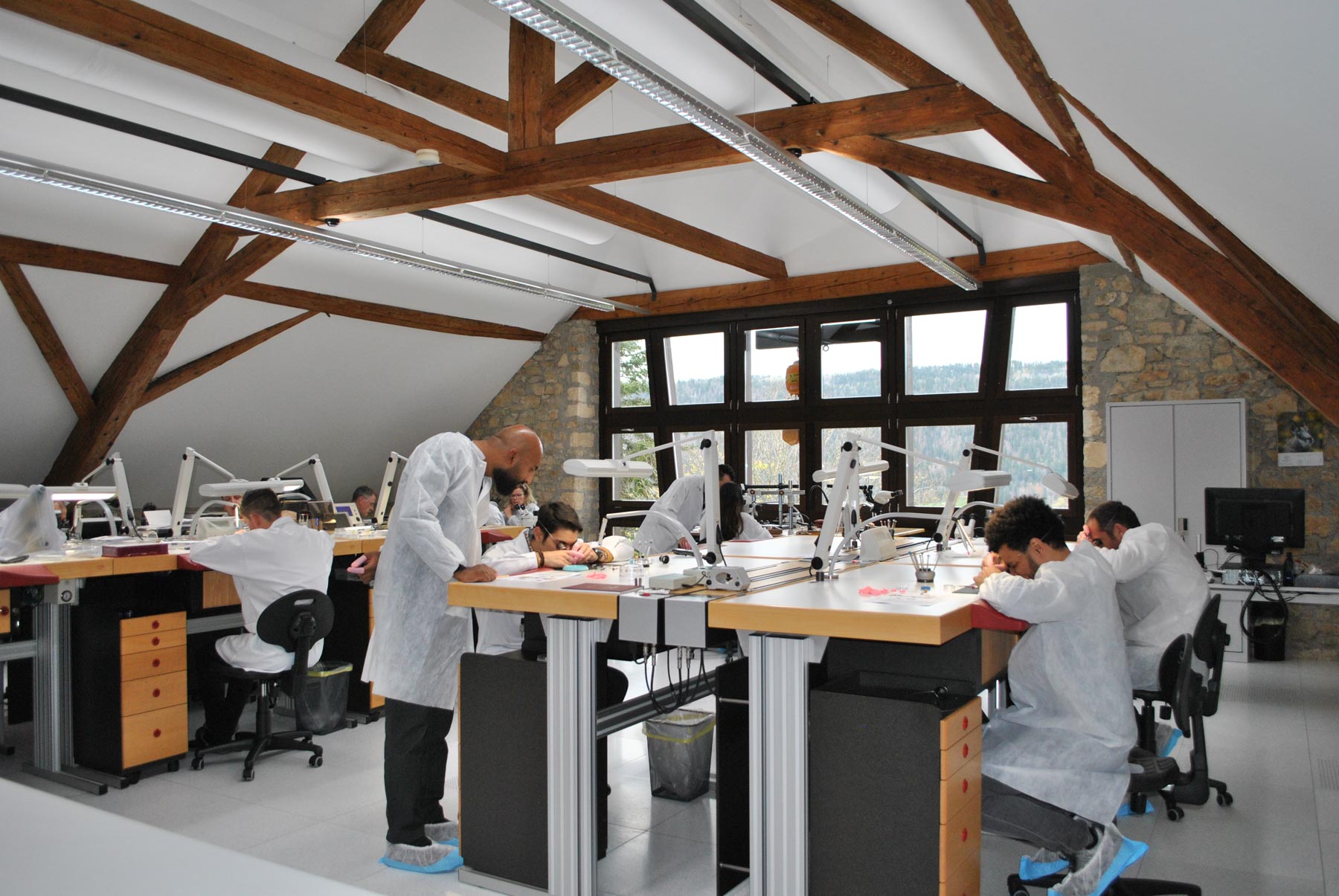 Opposing these is the main building that encapsulates the commercial offices in a grand open space, decorated with exposed wood, pristine white walls, and beautiful photographs of select Bovet timepieces and Bovet moments from the brand's history. A twisting staircase leads to the loft that was specifically remodeled with the goal of moving the quality control, casing, and hand-engraving tasks here. Achieving this required a three-year renovation process of the old building. Modern watchmaking tasks, including those mentioned, require immaculate working surfaces, including hospital-grade cleanliness of the air, ensuring it is free of dust and particles that would cause aesthetic or functional issues in fine mechanical watches. As such, along with the addition of a properly sealing roof, doors, and windows, a high-tech ventilation system that creates a high pressure inside the ateliers has also been installed — this is done so that dust is never sucked into the room.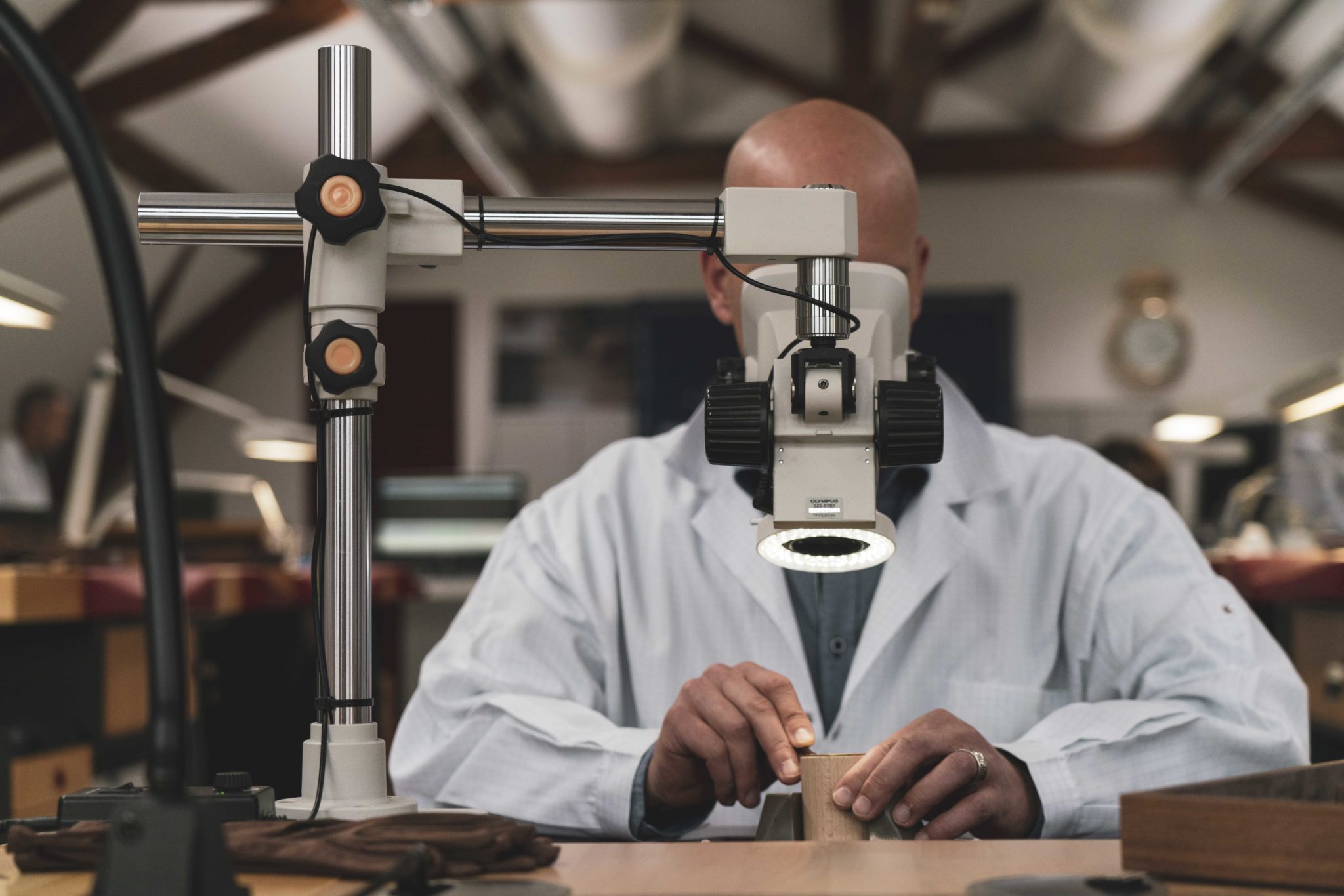 This unique way in which Bovet operates today gives us a chance to briefly reflect on the presence of the greater Swiss and German watch industry. The 21st century continues to see luxury watchmakers reside in, and even relocate into, soulless glass and metal-clad structures — highly efficient, but scarcely inspiring places for their teams to practice their trade. That trend has developed for two reasons: First, it is an exceedingly rare privilege for any watchmaker to be granted an opportunity to reclaim a lost location from its history; second, it is overwhelmingly challenging to turn old places into modern manufactures.
aBlogtoWatch: And so this new-old home for the House of Bovet has been rather miraculously found. Still, as you said, you were looking for facilities where all aspects of high watchmaking could eventually be practiced. How did Bovet develop from a watch company in a castle into an integrated manufacture capable of designing and producing some genuinely unique and indeed complicated movements, cases, dials, and even hairsprings and hands?
Mr. Pascal Raffy: The same year, in April of 2006, the gentleman owner of a watchmaking manufacturing facility told me he wanted to sell. "Why me, when you have 14 big clients?" I asked. He told me he has a beautiful team of 72 and he wanted them to have the right future.
I discovered a facility that was not doing components at the standard of the House of Bovet. This was a fact. But the eyes of the artisans were sparkling. And I spent two hours talking with them and came to the understanding that the passion is there, true artisans are there and it can be done to go back to the essence of watchmaking. Every single component, taken care of. I fell in love with the team, but not with the facility that had lots of tiny little rooms that I wanted opened up and for life to be shared. Two full weeks, every single machine and component had to be removed – this was still in April. So, the House of Bovet in 2021 truly does its cases, dials, movements, hairsprings, and even its hands. Our loyal, beautiful supplier, when we showed him the technical drawings for the curved, three-dimensional hands planned for our Astérium, he said he cannot do it. I said, "Okay, we are going to do it ourselves."
aBlogtoWatch: There was this big uptick in the trend of becoming a manufacture for all kinds of reasons, but for you, because you have so many bespoke components, it is a wholly different reason than merely being independent. You are not reliant on ETA and, likewise, for all your other components such as the cases and dials, you had already worked with highly specialized, small suppliers and, at that level, it is rare for niche brands to strive for such all-encompassing independence.
Mr. Pascal Raffy: In fact, the true motivation is split into two concepts. When I took over the House of Bovet, the motivation was that this house has already marked more than a century of Swiss watchmaking. Beautiful past, true craftsmanship, enameling, engraving, open casebacks, and more.
"It was the will to pay tribute to that patrimony. And today it is possible to have true facilities – knowing that it is not the building, but the teams in it.
We have the same shared philosophy between the artisans. When 2006 came, we achieved this, but it took us ten years to be at the level that I wanted. I told them, "Take your time, no pressure, fine-tune your components." My youngest watchmaker, she is unbelievable. At 32 years old, for the Grand Récital with 700 components, which normally takes 60 hours to assemble, she assembles it in 40. So, we have a beautiful range of generations all living together."
The second motivation: To be a collector does not necessarily allow you to dive into the movement. You appreciate, you read, you take the magnifying glass and the timepiece talks to you. But that luxury, when you have an idea – like the timepieces I wanted – and every day you can work with engineers (Stefan Widmer is here with us as we speak) and watchmakers on all the steps of productions and how those come together with all the 42 skills actively practiced in our facilities… That is just wonderful – and it all comes together in a Bovet watch.
And indeed, all it takes is a glimpse at the watchmaking variety and complexity reflected by the various watch collections of Bovet for one to understand how every horological dream can become reality with the right teams and the right tools at their disposal.
When in 2006 Bovet acquired the SST group in Tramelan and restructured it into its own, integrated movement manufacture today known as Dimier – comprising a specialized movement manufacture, its own, dedicated balance-spring producer as well as its own manufacture dedicated to stamping – it opened a new dimension for itself in movement design and manufacturing. Such commitment to all-encompassing know-how and manufacturing in mechanical watchmaking is exceedingly rare even in this top-of-the-top haute horlogerie segment. This means that Mr. Raffy and Bovet can begin work on a new movement with a blank canvas – without having to fear the restrictions and denial of suppliers used by other brands.
So that the exterior could come to match the fine mechanics inside, next came the acquisition of dial maker and gem-setting specialist Valor, Lopez & Villa in Plan-les-Ouates, as well as the Château de Môtiers. Within a few months, the Bovet team grew from 43 to 148 – all since working towards a shared goal under the guidance of Mr. Raffy. In 2005, the company had a 38-strong team, the "fully integrated dream" of fine watchmaking is made real by a minority stake in a Swiss case manufacturer that is ready to realize Bovet's every case design idea, including those with sloping sapphire cases, or those with the patented Amadéo® System that allows for a tool-free transformation from wristwatch to pocket watch.
As we discovered, in appreciation of its achievements and dedicated new owner, in 2006, the Canton of Neuchâtel offered the house of Bovet the singular opportunity of acquiring a château overlooking the town of Môtiers and the famed watchmaking region of Val-de-Travers, a château that was, in fact, owned and operated by the Bovet family in the 19th and 20th century, hence presenting the once-in-a-lifetime opportunity for the watchmaker to transform a significant scene from its origins into a modernized palace of horological appreciation.
Today, the house of Bovet and its craftspeople actively practice and nurture over 40 different crafts, from movement manufacturing and finishing through dial painting to hand engraving — all in an effort to maintain their independence and to actively pursue their next truly creative creation. Browse Bovet's current collections and learn more at Bovet.com.