The Virtuoso V
Blue Guilloché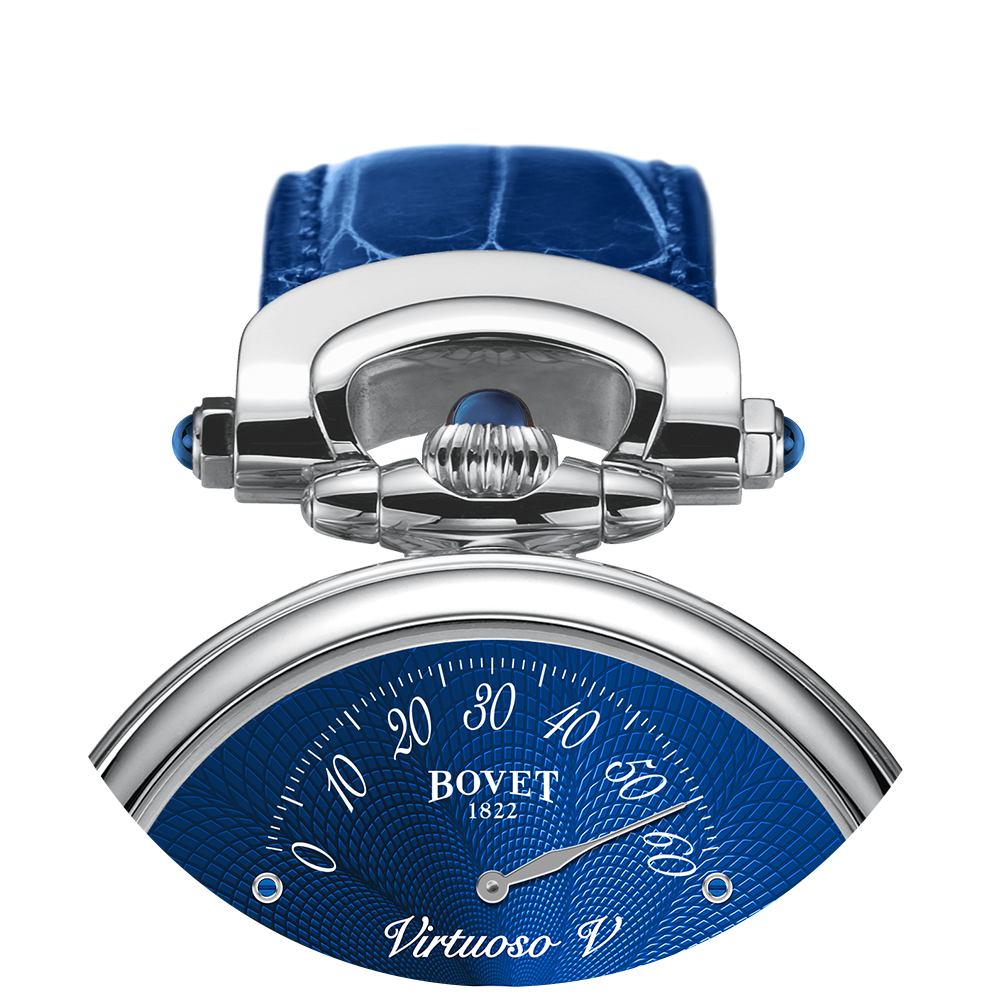 Patented Amadeo convertible system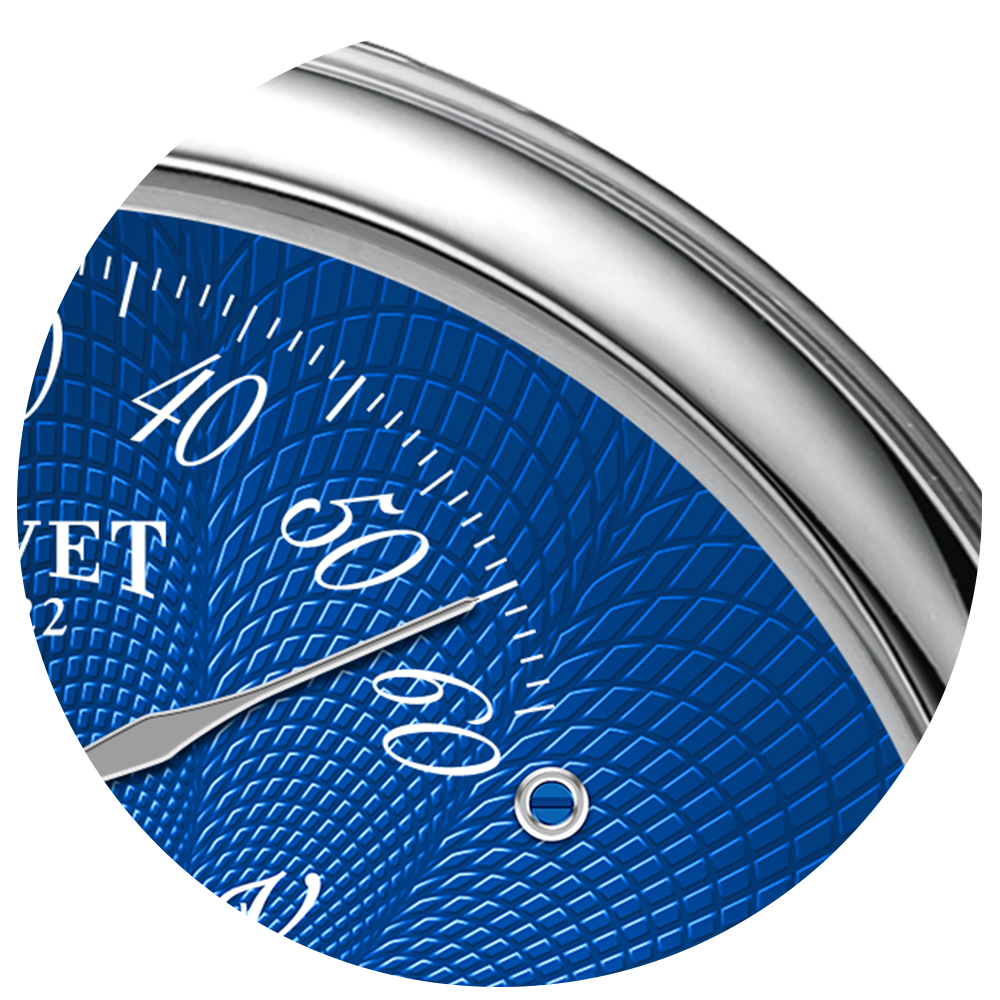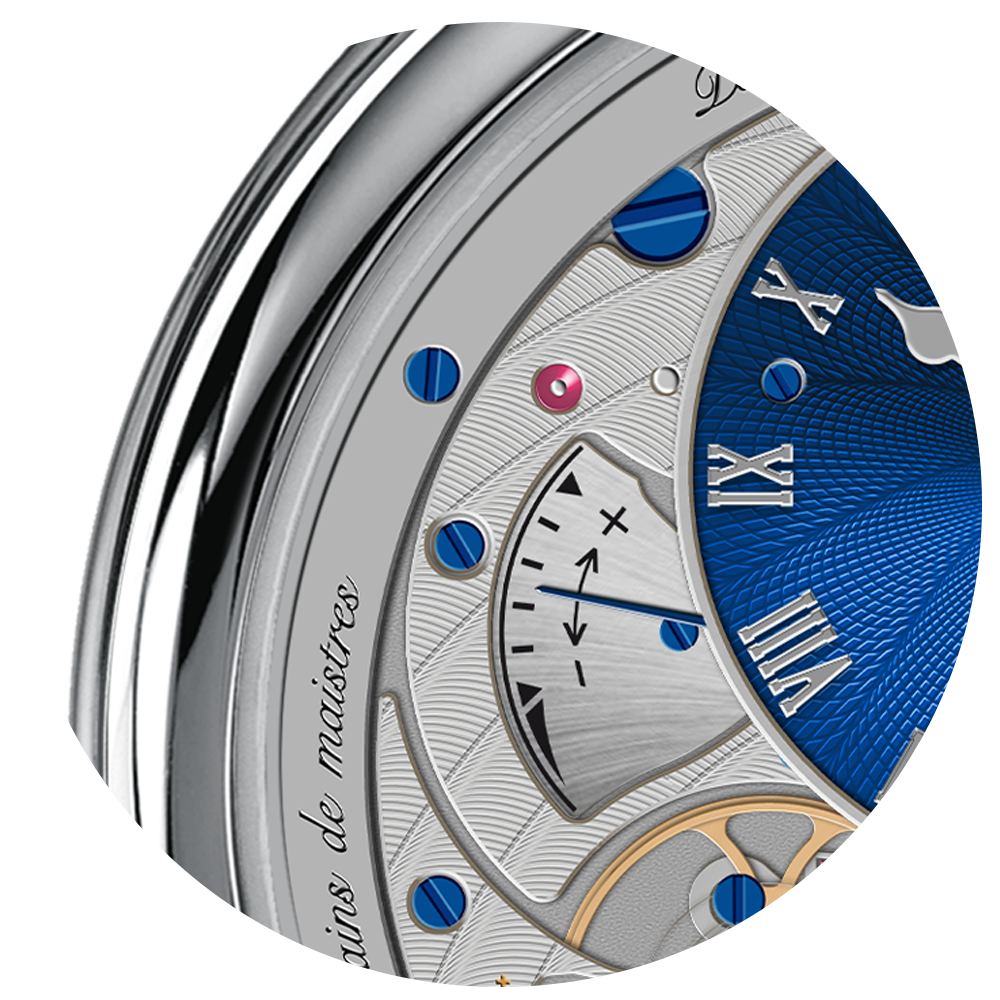 Five-day power reserve with a single barrel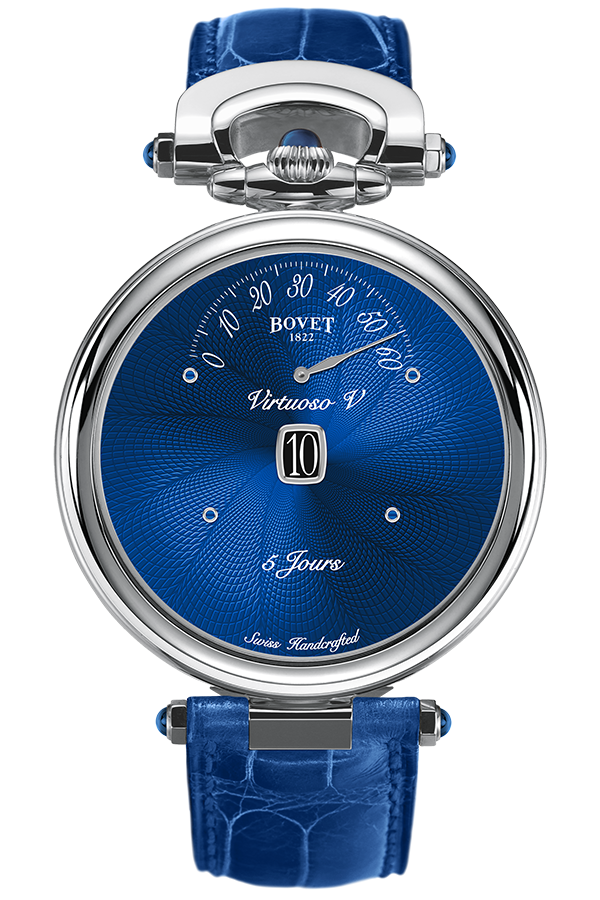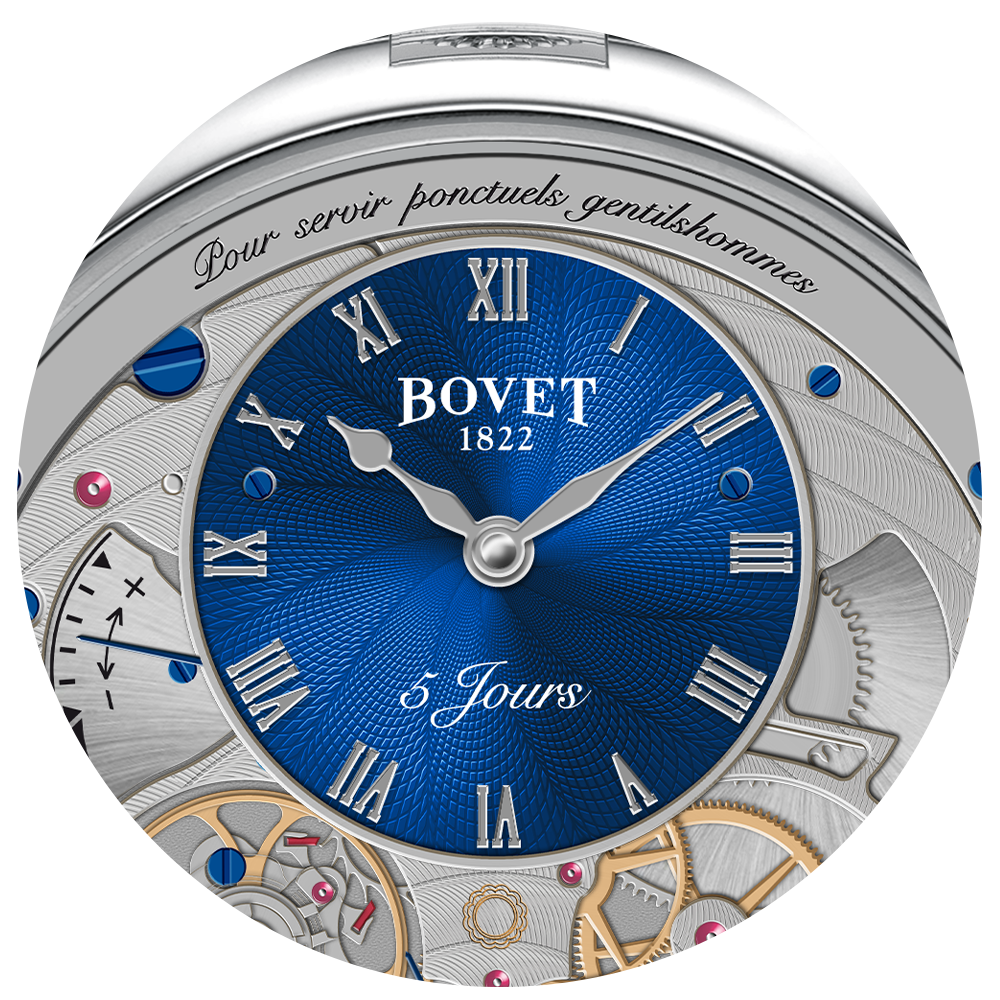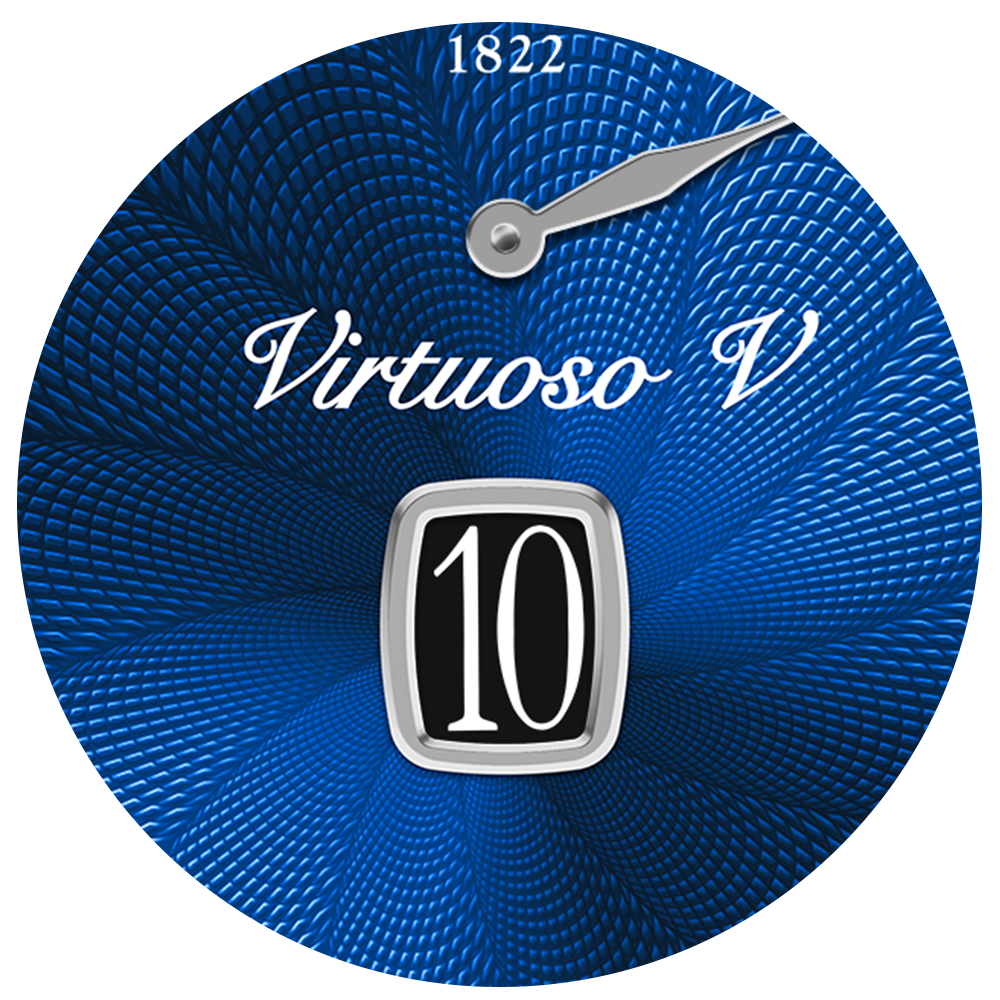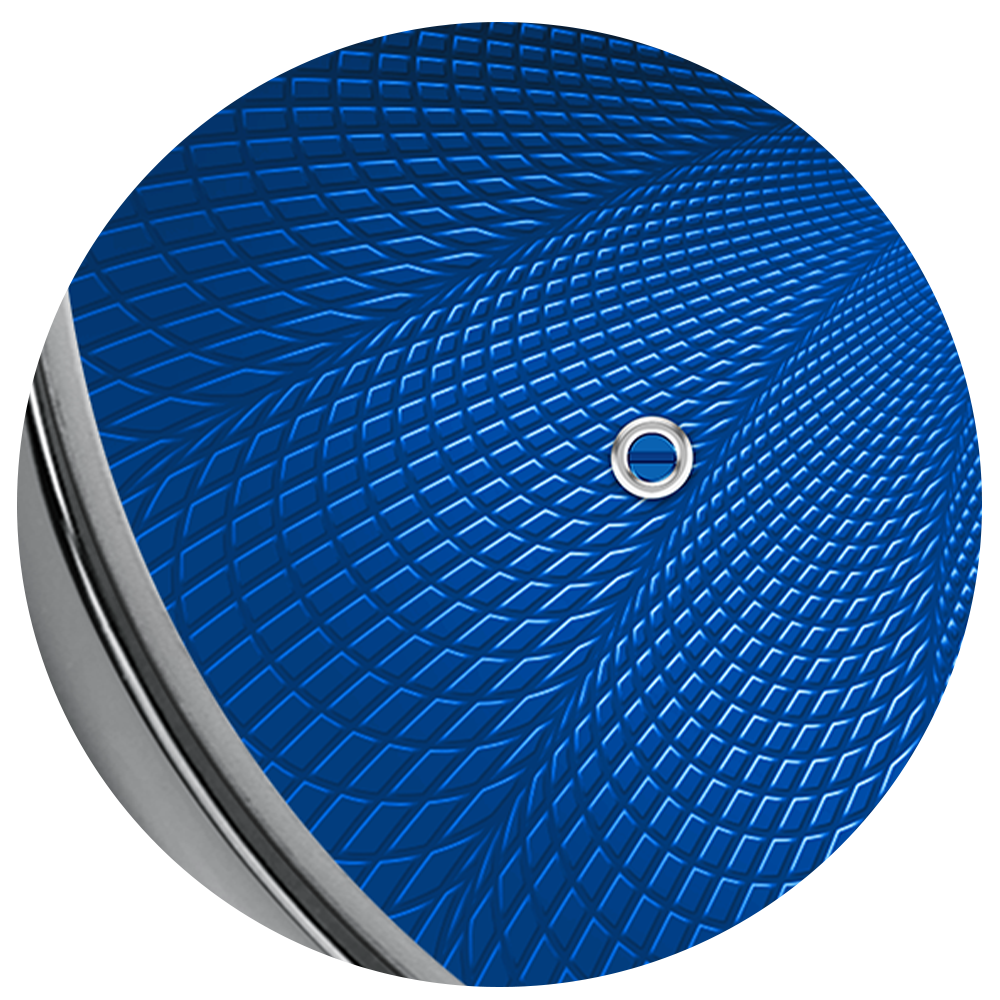 Signature guilloché design in blue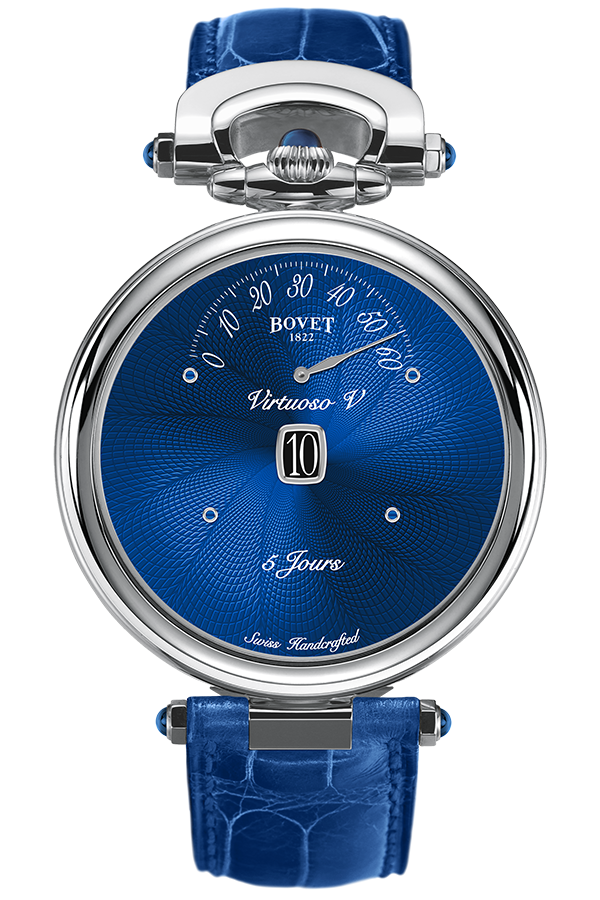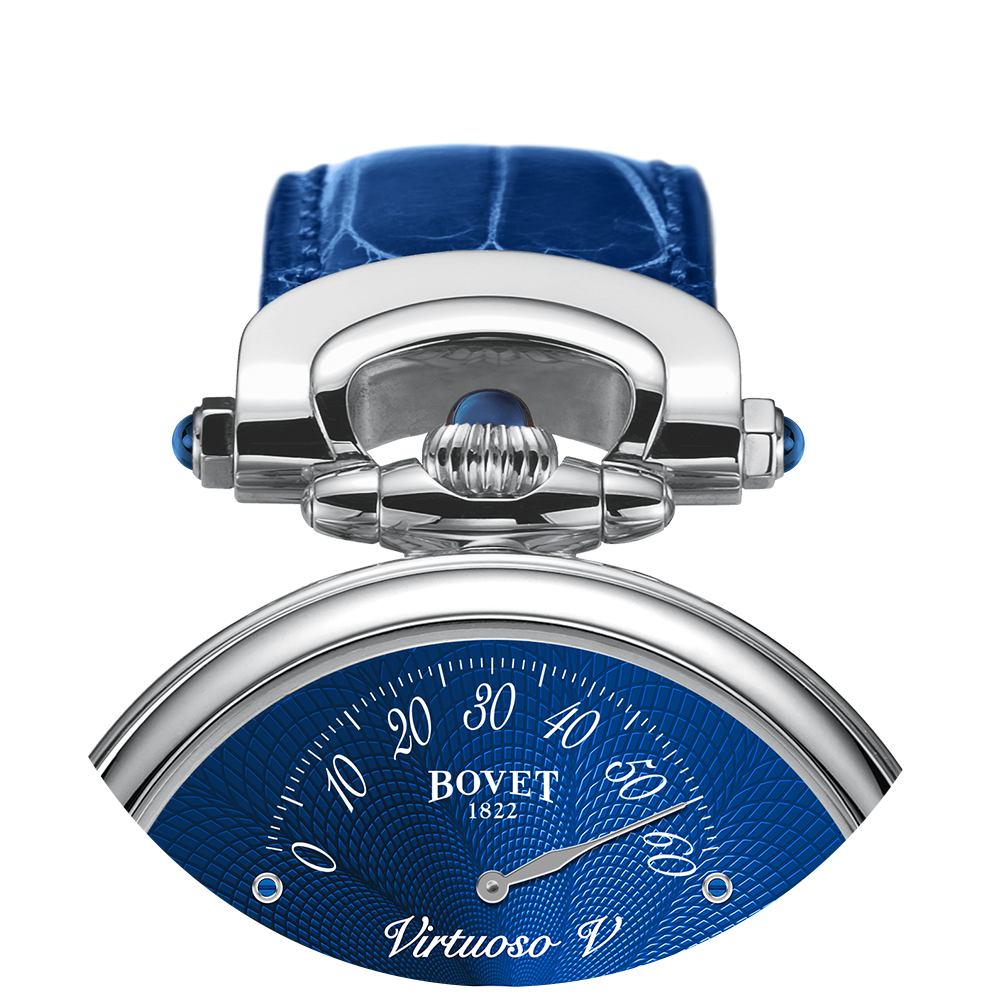 Patented Amadeo convertible system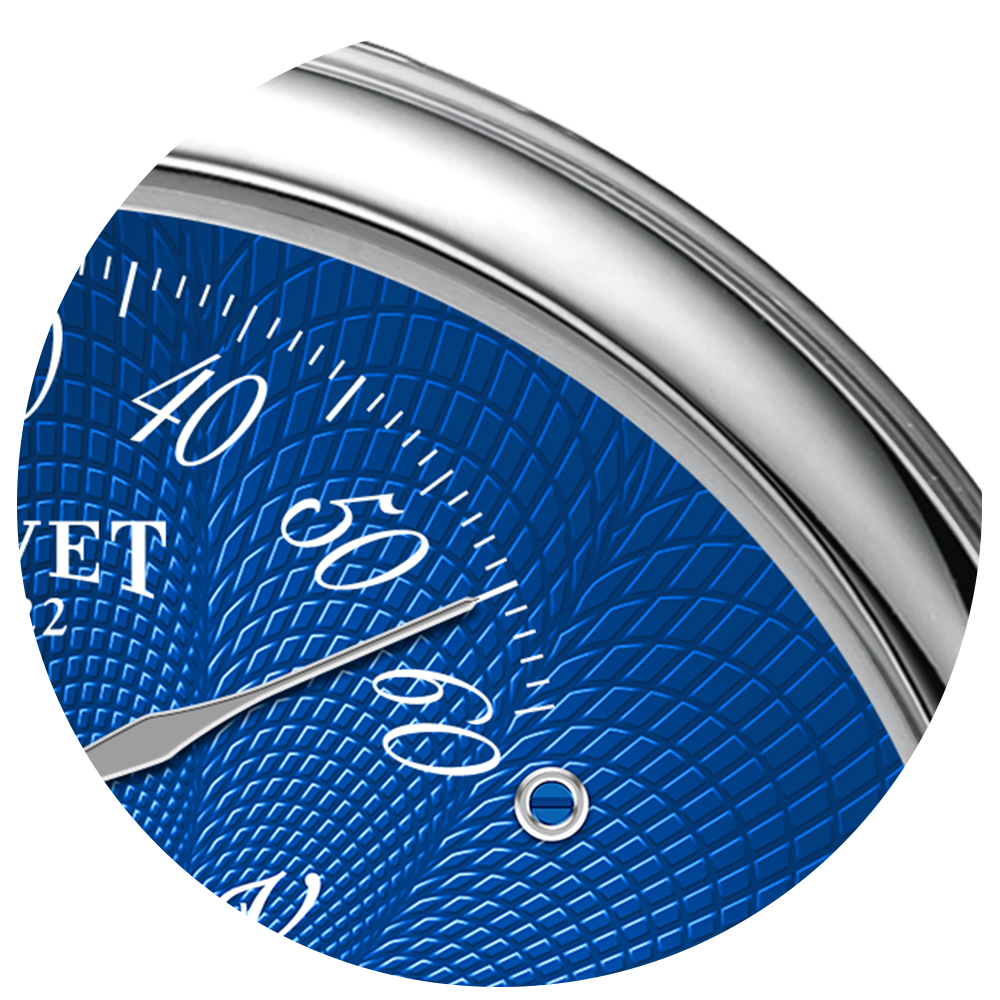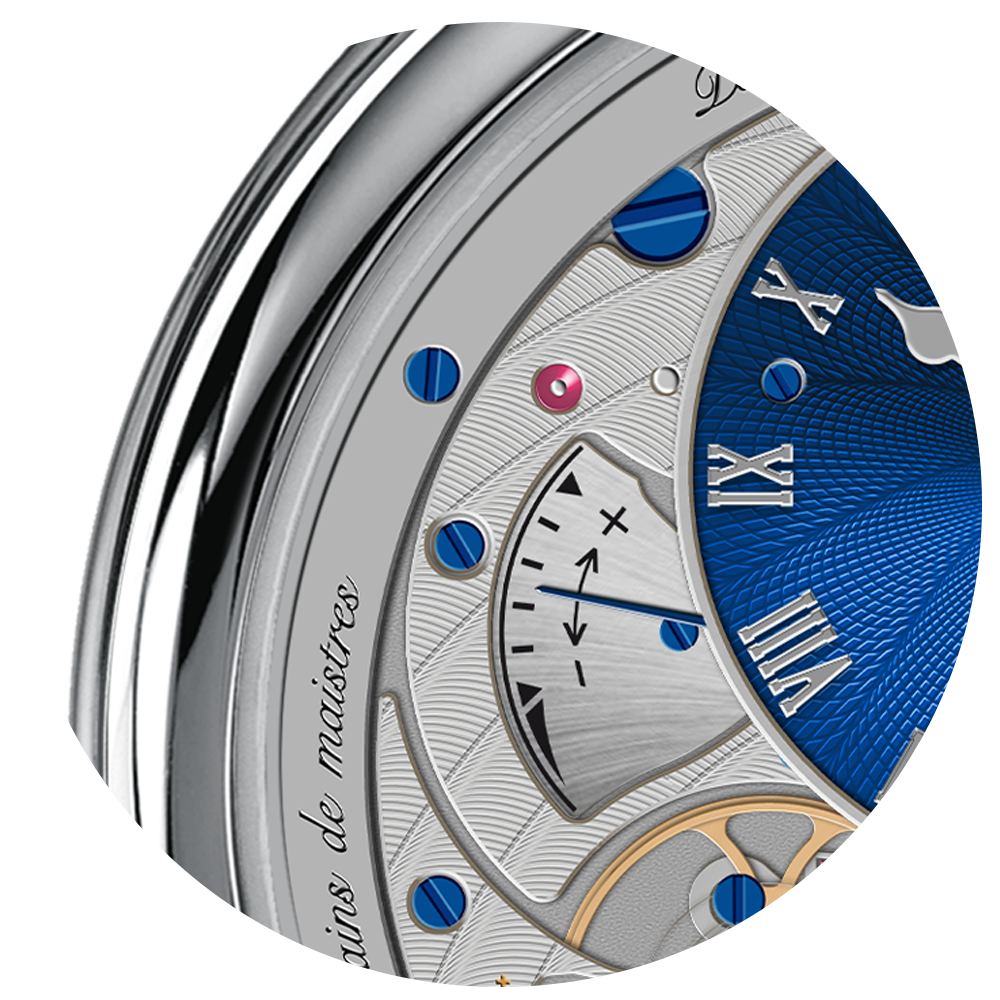 Five-day power reserve with a single barrel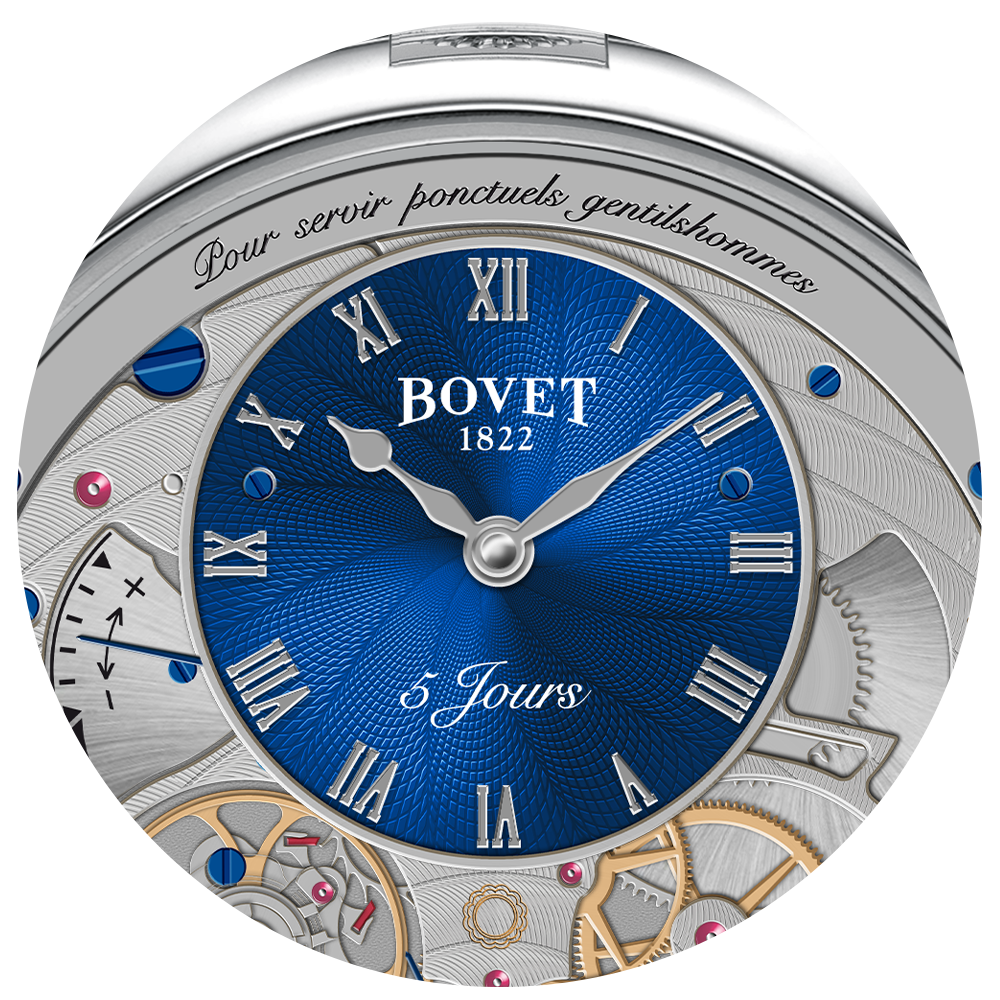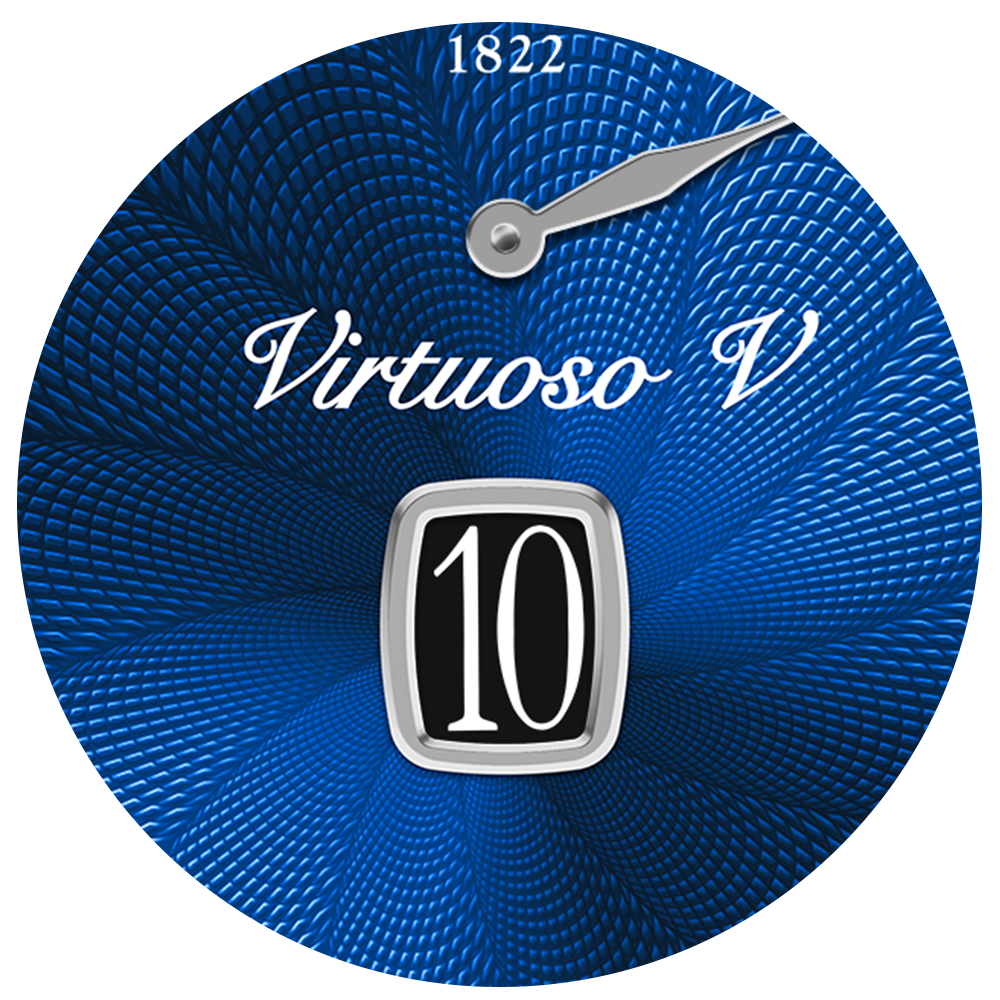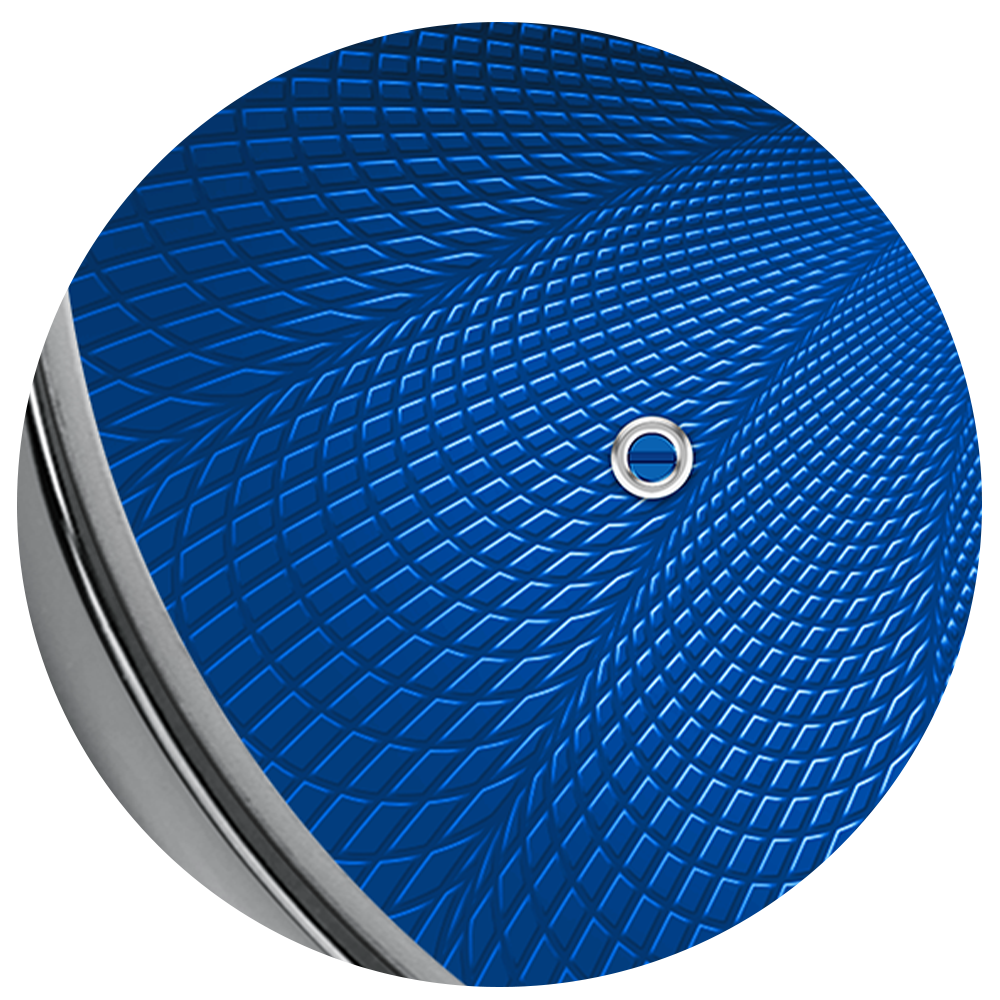 Signature guilloché design in blue
The Jumping Hour is a poetic complication, one for which collectors will pause at the end of every hour just to appreciate the instantaneous jump of the hour display. BOVET has added a retrograde minute hand that snaps back to zero just as the hour jumps, giving watch lovers another reason to eagerly anticipate the end of each hour.
The Jumping Hour aperture is placed in the exact center of the full dial, while the retrograde minute arcs above it. The resulting symmetry belies the complexity of this timed jump.
The Virtuoso V integrates these two complications that are difficult to combine. The jump of the hour disk must be perfectly synchronized with the jump of the minute hand, a feat made possible by BOVET 1822's team of advanced engineers, constructors, and watchmakers. Managing the release of the power is the most challenging, as it has to happen exactly at the same time every single hour.
On the other side is an off-centered hour/minute dial, offering a look into this impeccably finished manufacture movement. Four timepieces in one, the Virtuoso V can be worn on either side, used as a table clock or a pocket watch, all without any tools.
The dials on both sides exemplify the skill of the dial workshop inside BOVET's manufacture. Done completely in-house, the traditional guilloche pattern is coated with seven layers of lacquer, baked in the oven at 100 degrees, and then polished. The result is a dial of extraordinary beauty and depth, one that changes depending on the angle of the light hitting it.
One additional special feature is that thanks to a corrector on the side of the case, the jumping hour of the Virtuoso V can be set to a different time than the reverse dial, making it a GMT timepiece.
The Virtuoso V has 300 components and takes approximately 10 hours for a skilled BOVET watchmaker to assemble from start to finish.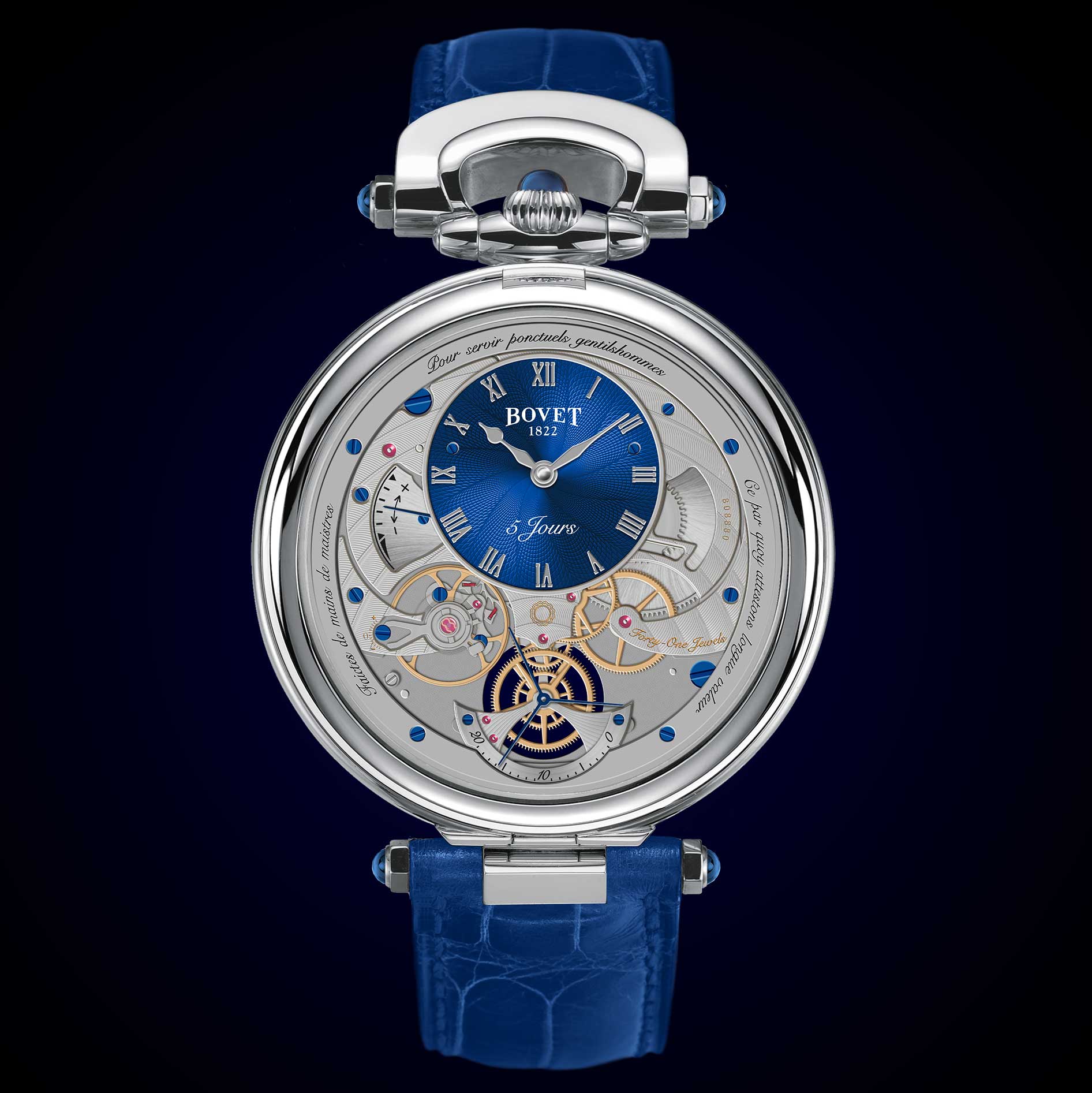 Jumping hours, retrograde minutes, sub-seconds
(Patented coaxial seconds), power reserve indicator, reversed hand-fitting (hours, minutes and seconds)
REFERENCE
CASE TYPE
DIAL
CASE MATERIAL
BRACELET
BUCKLE
DIAMETER
THICKNESS
FREQUENCY
POWER RESERVE
WATER RESISTANCE
ACHS050
Amadeo Convertible System
Blue guilloché
Titanium
Calf skint
Titanium Ardillon
43.50mm
15.70mm
21'600 v/h
5 Days
30m
Jumping hours, retrograde minutes, sub-seconds
(Patented coaxial seconds), power reserve indicator, reversed hand-fitting (hours, minutes and seconds)
Amadeo Convertible System
CASE MATERIAL
BRACELET
BUCKLE
DIAMETER
THICKNESS
FREQUENCY
POWER RESERVE
WATER RESISTANCE
Titanium
Calf skint
Titanium Ardillon
43.50mm
15.70mm
21'600 v/h
5 Days
30m