Récital 22
18K red gold, Blue Lacquered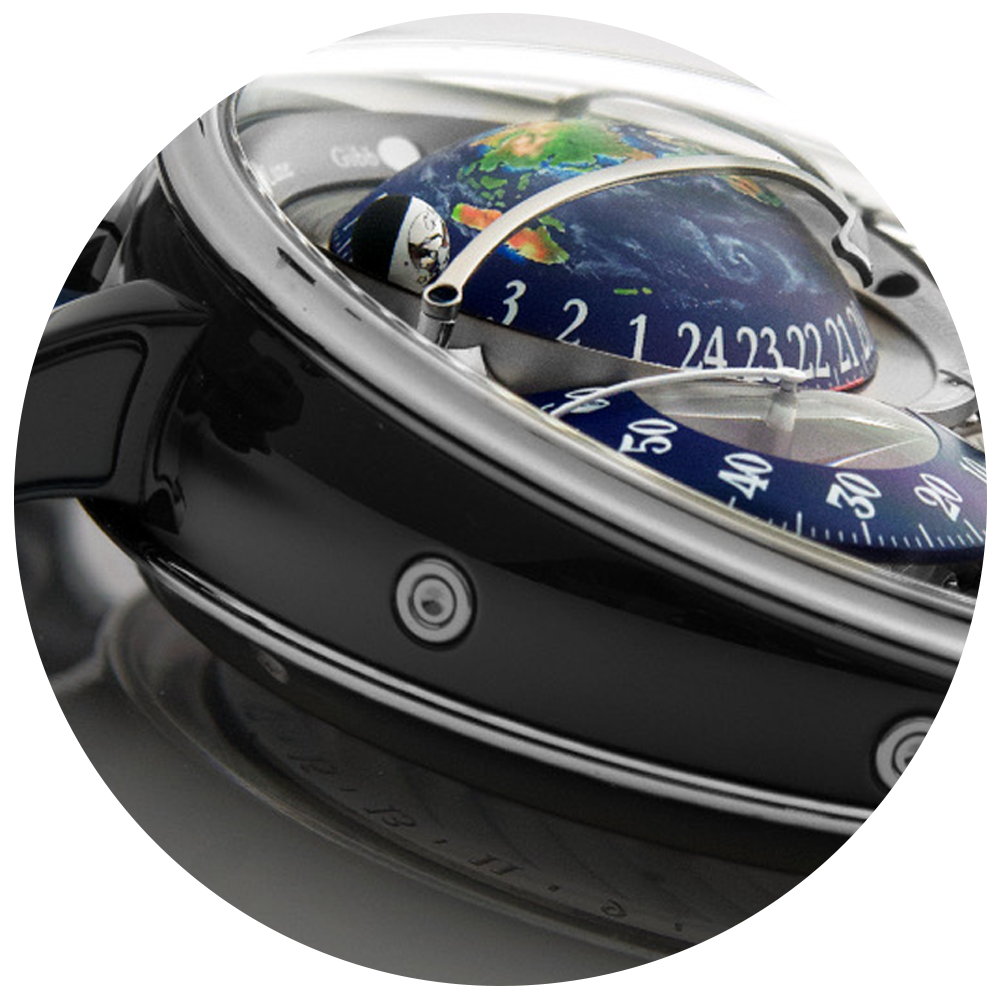 46.30 mm trademarked writing slope case in 18K red gold or platinum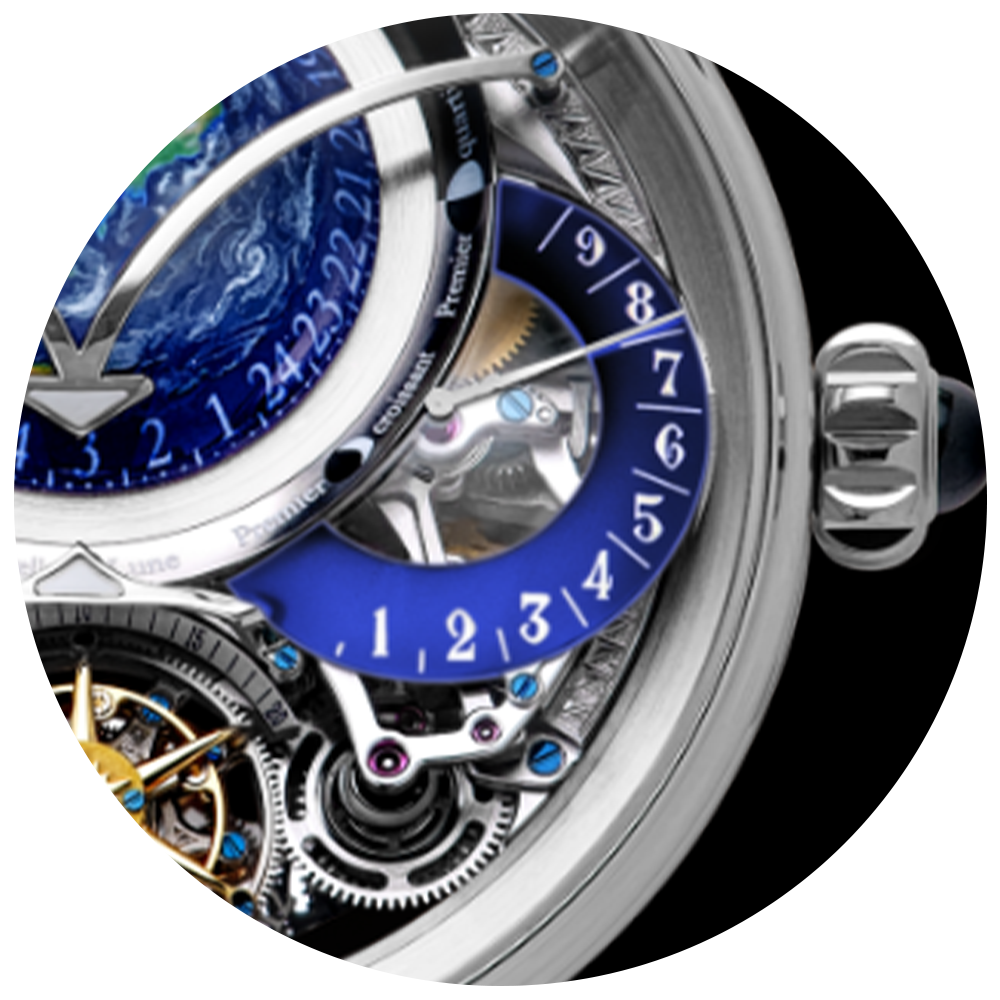 Nine-day power reserve with a single barrel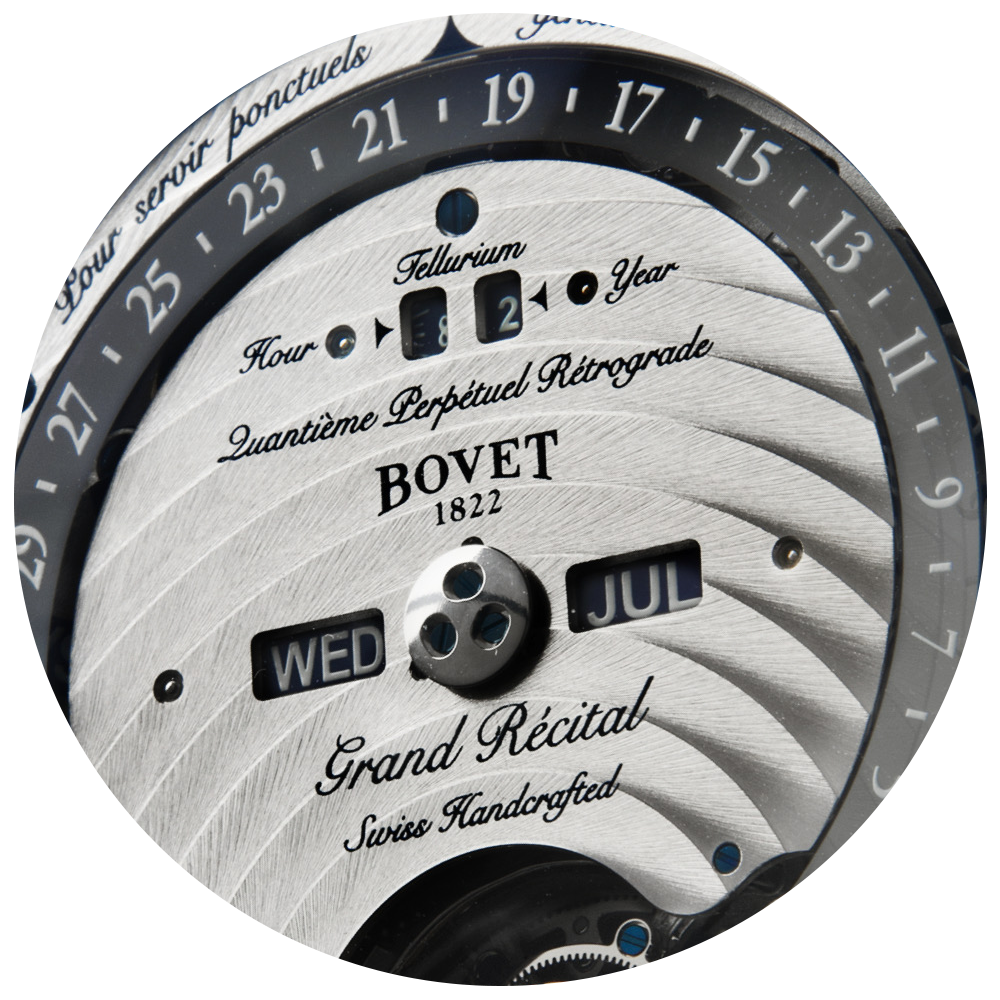 Day, month, leap year, and retrograde double-sided date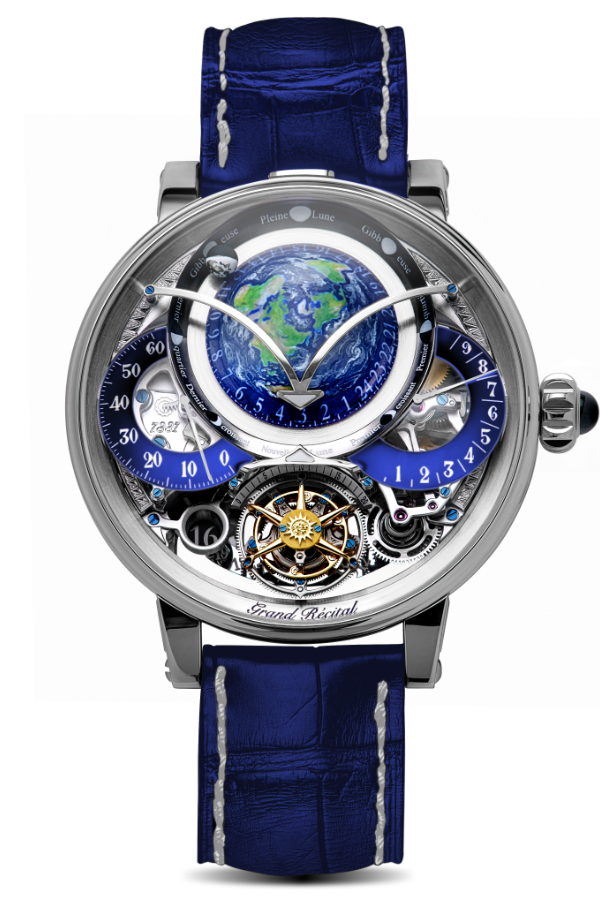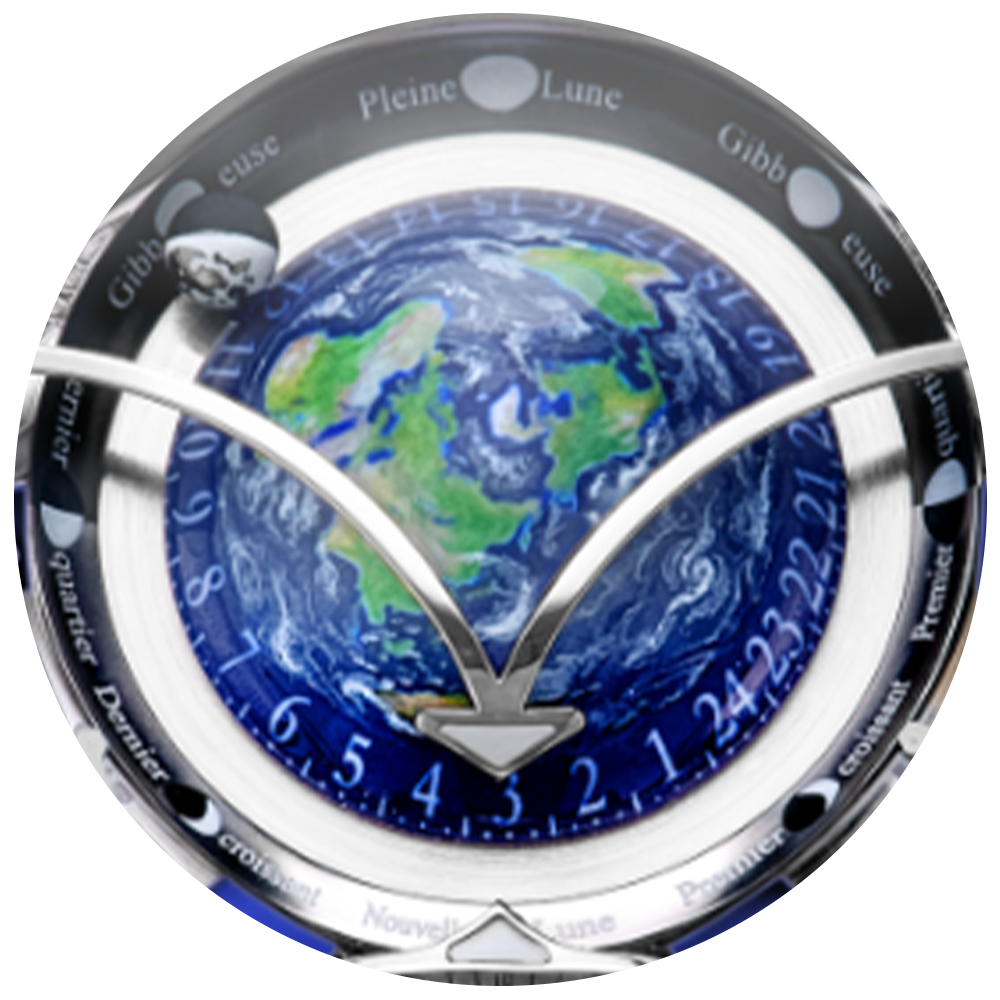 Rotating earth 24-hour display and three-dimensional
hemispheric precision moon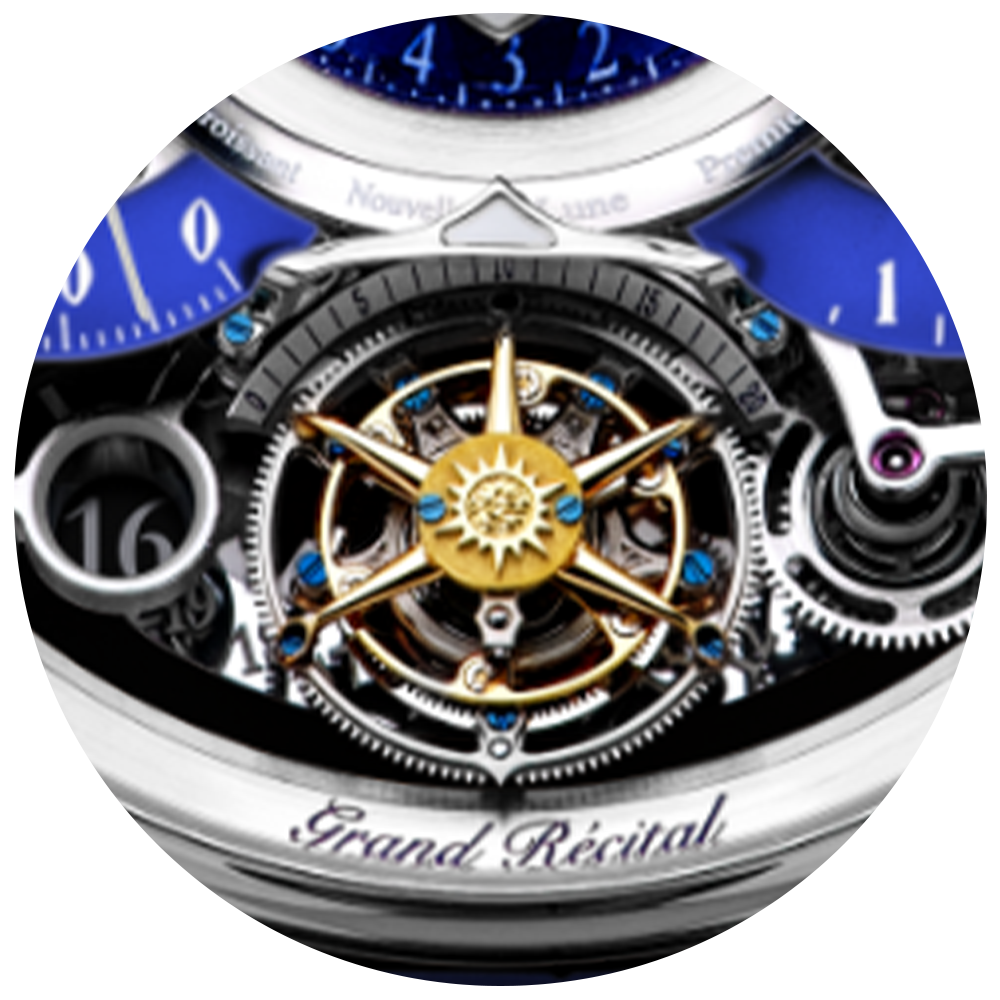 Seconds on the double-sided flying tourbillon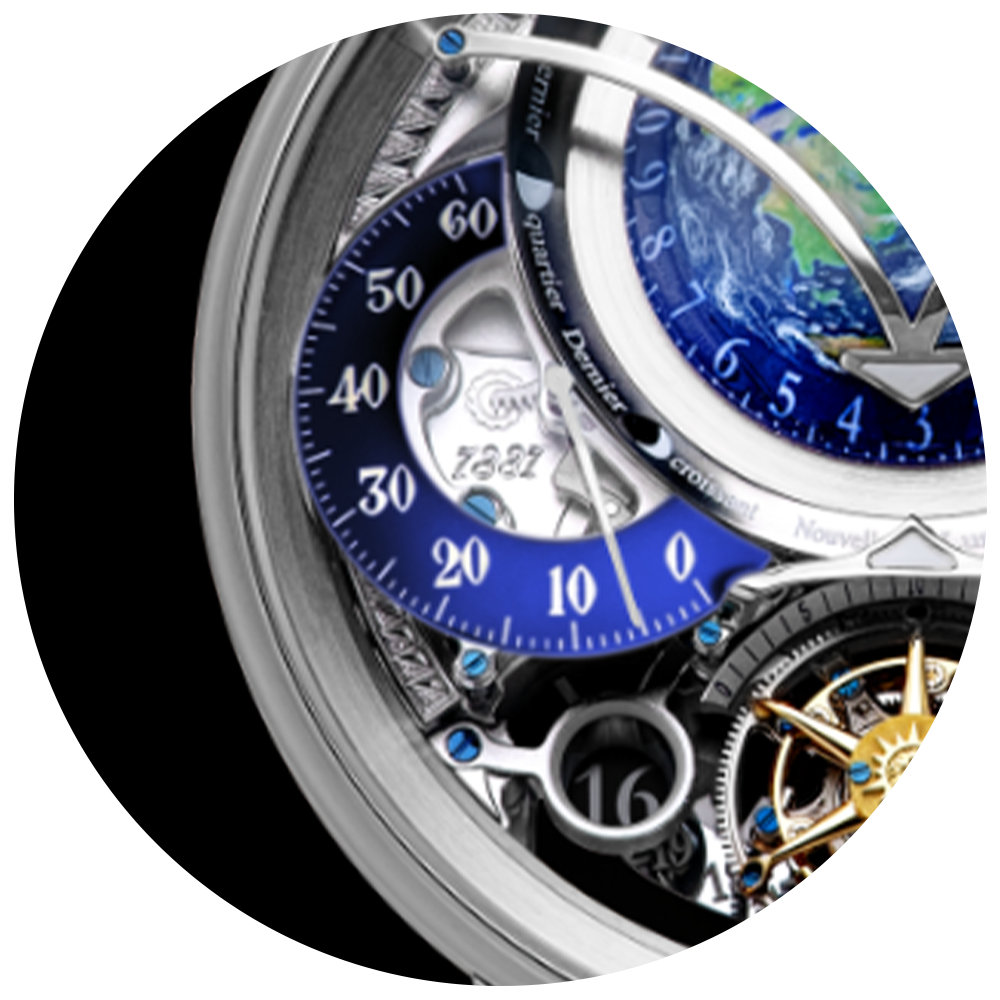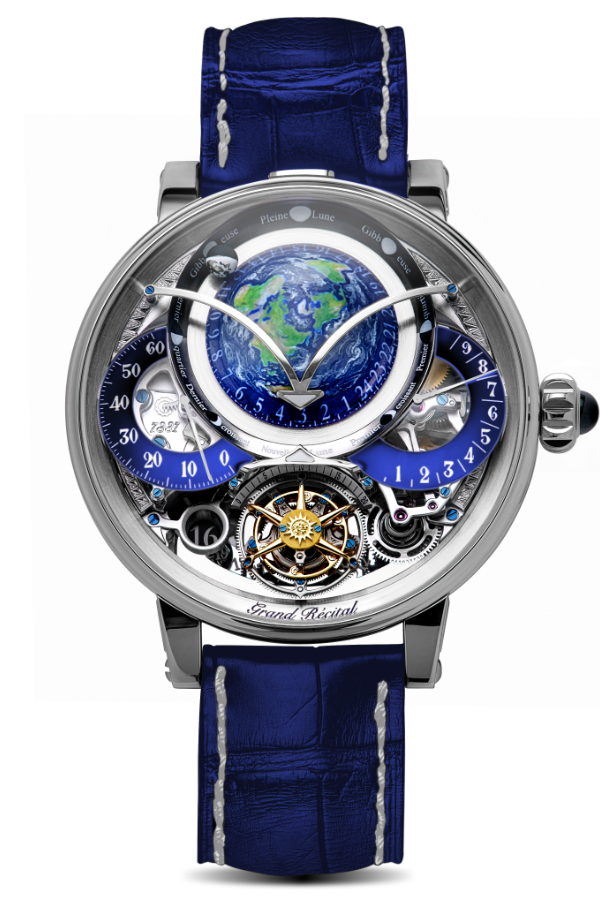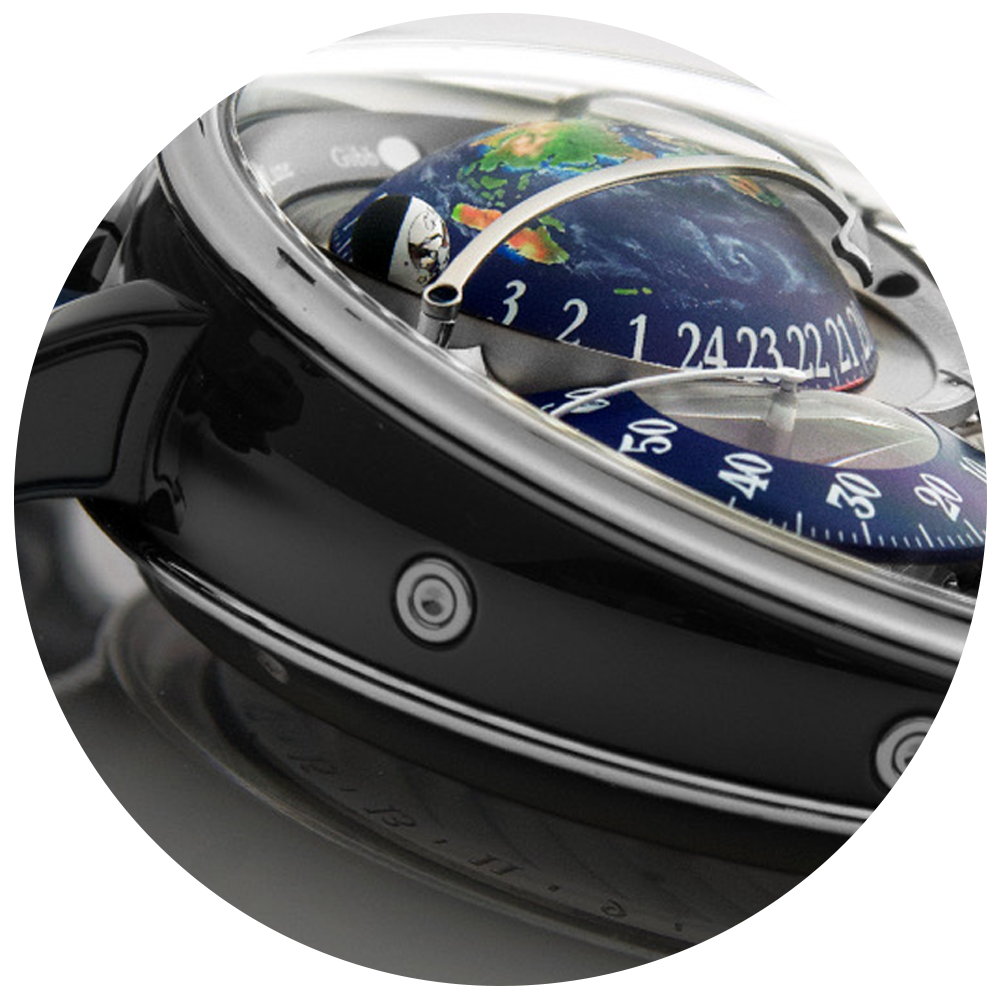 46.30 mm trademarked writing slope case in 18K red gold or platinum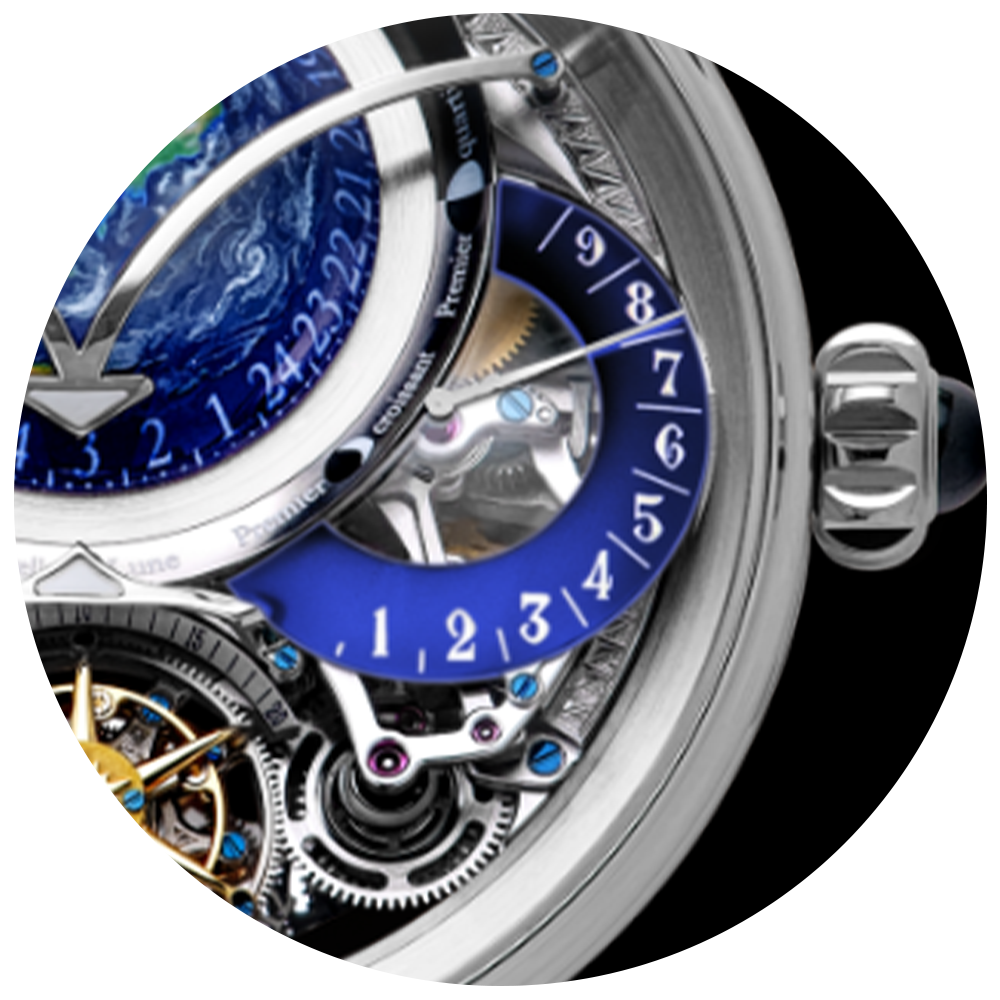 Nine-day power reserve with a single barrel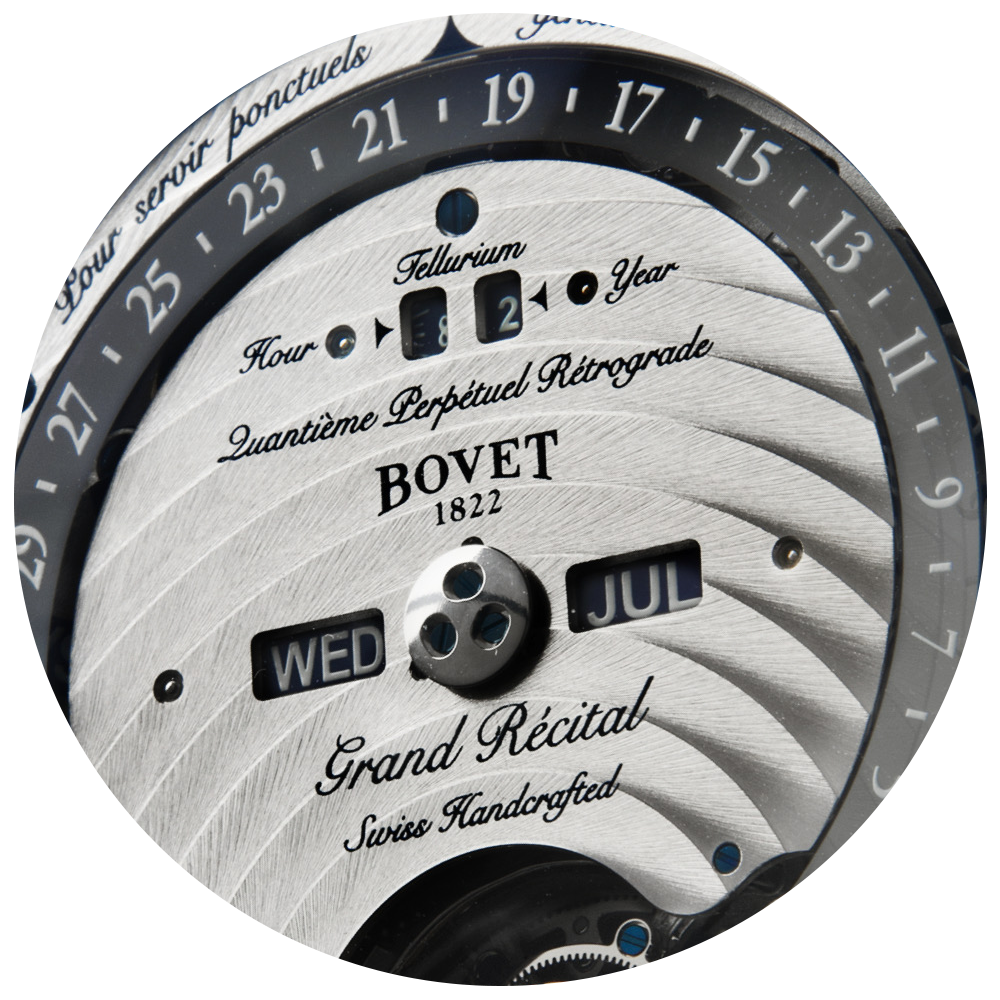 Day, month, leap year, and retrograde double-sided date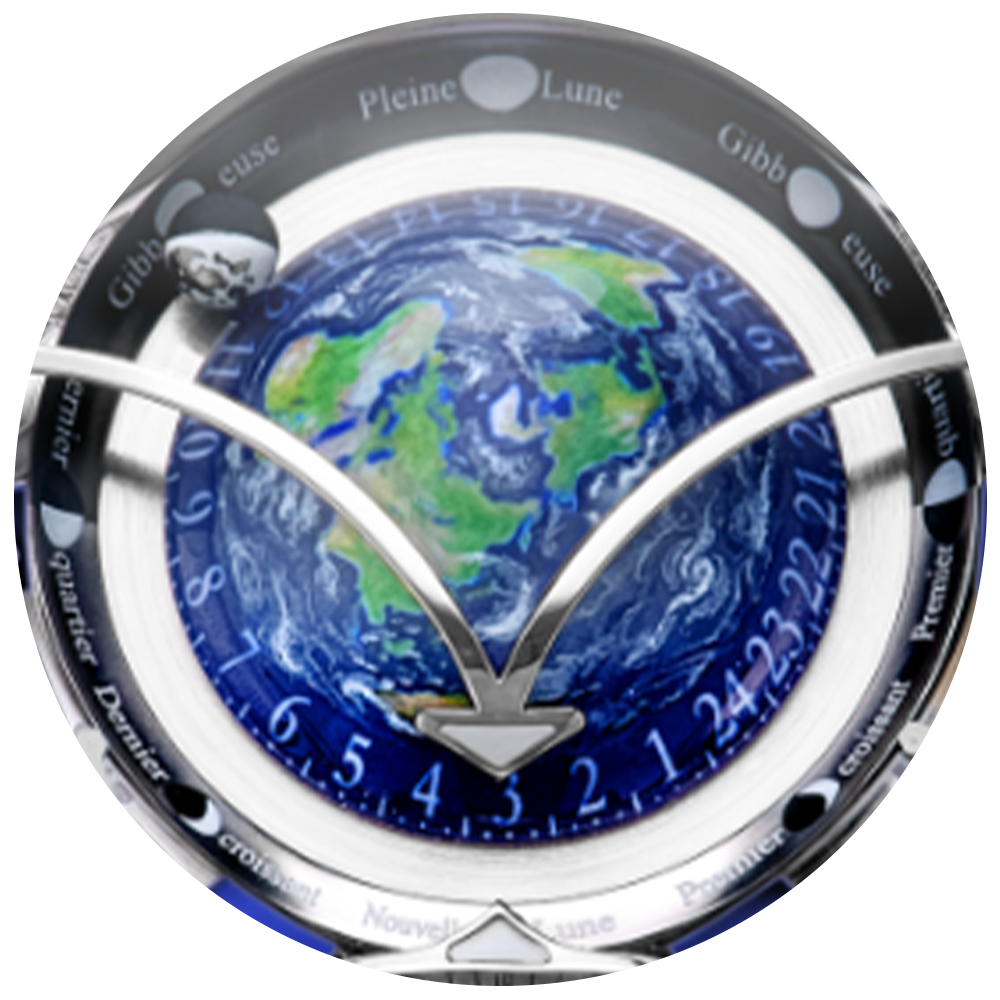 Rotating earth 24-hour display and three-dimensional
hemispheric precision moon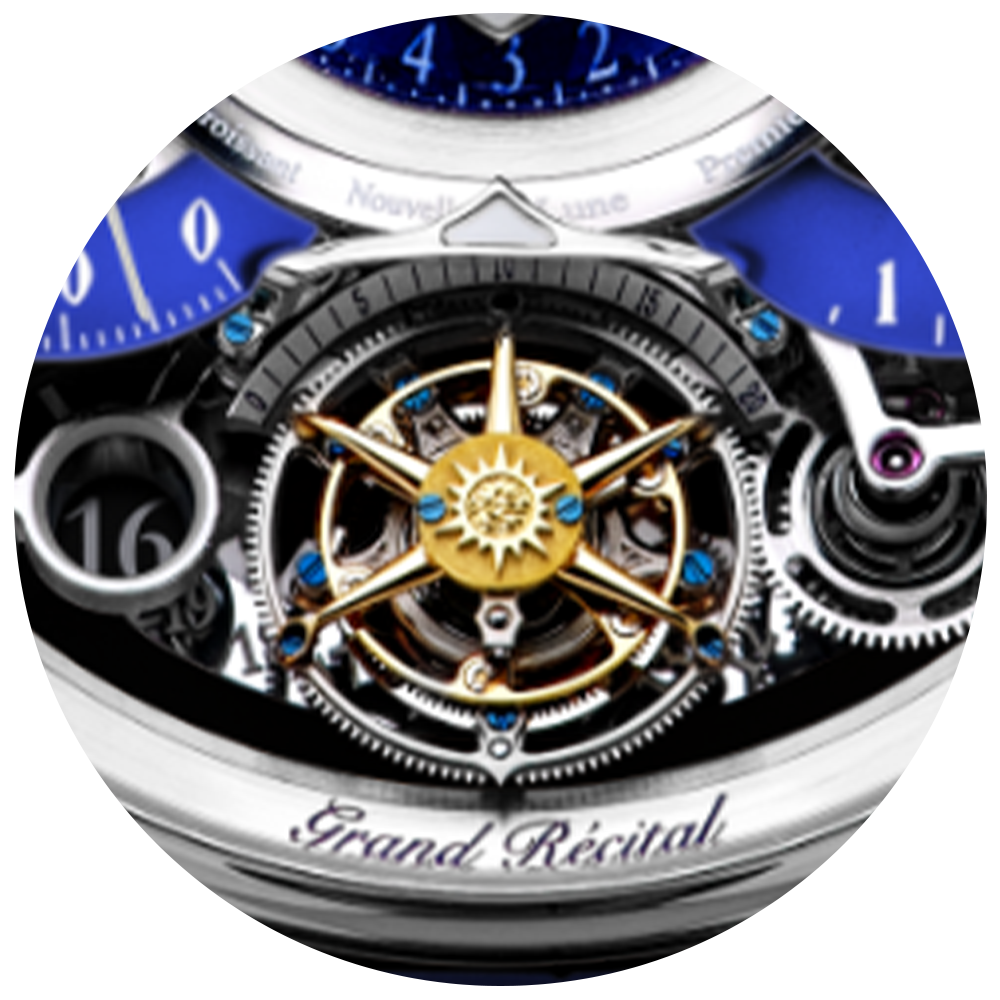 Seconds on the double-sided flying tourbillon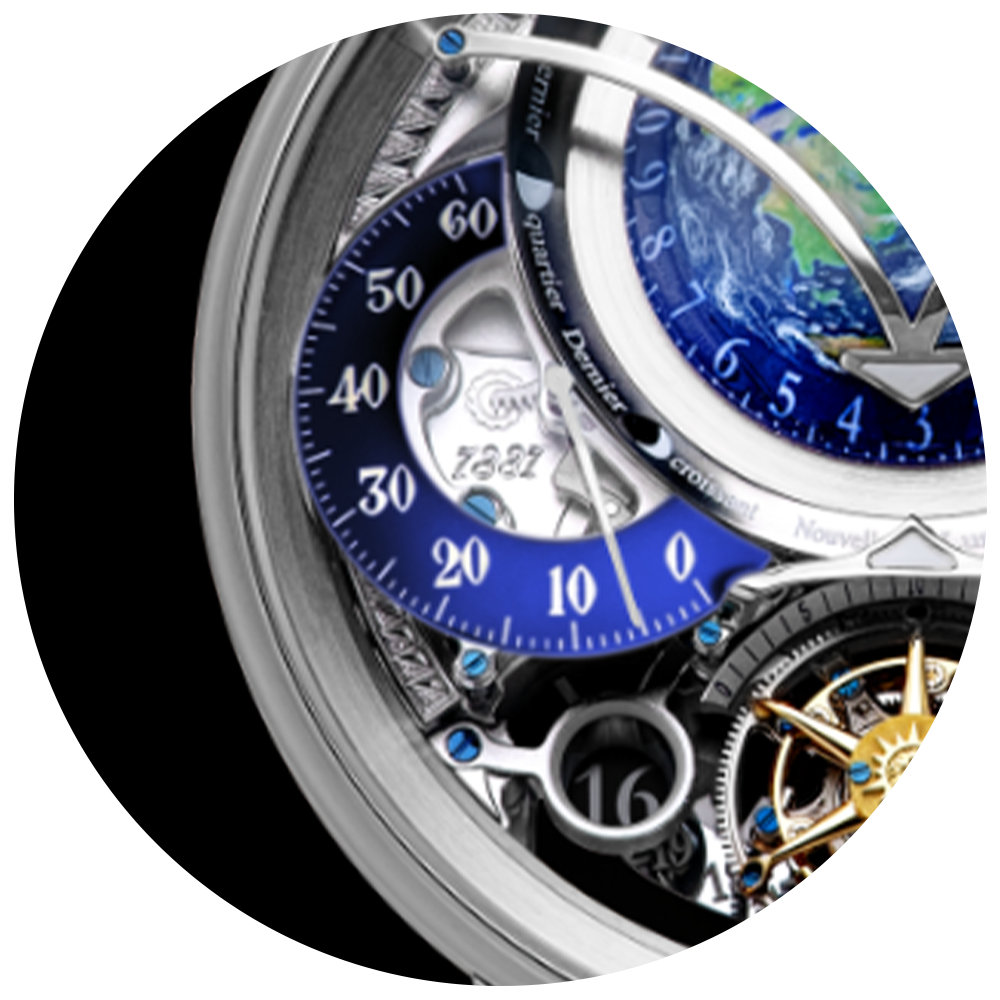 The Récital 22 Grand Récital offers a celebration of the three heavenly bodies that dictate the rhythm of our lives: the Earth, Moon and Sun. Conceived by Mr. Raffy while sitting in the courtyard of the castle, contemplating the heavens above him, he translated what he saw into this timepiece.
Within this miniature tellurium, the Sun is represented by a patented double-sided flying tourbillon that rotates above the movement as if in mid-air. The tourbillon cage's five rounded arms take the form of sunbeams. The 60 seconds it takes to complete its rotation allow seconds to be displayed by a marker fixed directly to the cage wheel.
At 12 o'clock, the Earth indicates the hours on a 24-hour basis. The especially realistic map on its surface is first engraved, then hand-painted, complete with a luminous coating. The astronomically precise moon phase (which requires correcting only once every 122 years) rotates around the globe's circumference. The power reserve and retrograde minutes are indicated on the two sectors located either side of the globe.
The date is displayed at 7 o'clock, beneath a magnifying glass, hinting at the perpetual calendar on the back side. Only the date, what is needed for everyday use, is displayed on the dial side, while all the other information is on the rear, together with another display of the date – a feat made possible using a two-sided disc activated by a retrograde mechanism with a tiny, patented rack.
Although the calendar indications can be corrected individually using the correctors incorporated into the case band, the Récital 22 also includes a quick and ingenious correction system: the rectangular pusher located between the lugs at 12 o'clock allows all of a given day's indications to be moved forward at once. This means that if the watch has stopped for three days, three pushes are all it takes to reset the perpetual calendar.
The 669 in-house components come together to form the movement of this Grand Complication. The assembly of this incredible movement takes more than 44 hours and is only attempted by the most skilled watchmakers in BOVET's atelier.
The Récital 22 won the GPHG "Golden Hand" award in 2018, watchmaking's highest honor.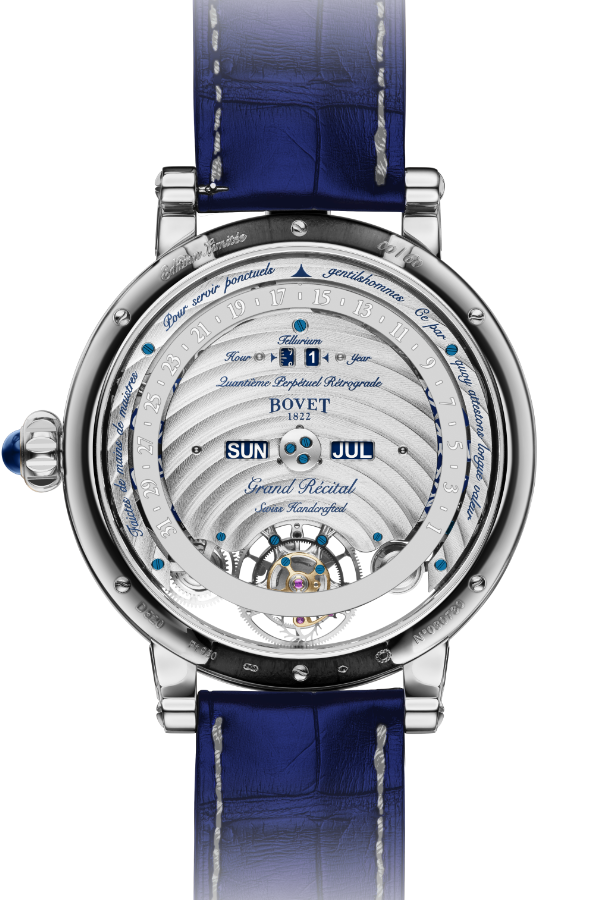 Hours (24h), retrograde minutes, seconds on tourbillon, power reserve indicator.
Tellurium (Orrery) functions with: sun (symbolized by the tourbillon), hemispherical earth and tridimensional moon phase. Perpetual calendar with: retrograde date (both sides), day, month and leap year indicators.
Reversed hours indicator
CASE TYPE
DIAL
FINISHING 
CASE MATERIAL
BRACELET
BUCKLE
DIAMETER
THICKNESS
FREQUENCY
POWER RESERVE
WATER RESISTANCE
Dimier ''writing desk'' case
Blue
Miniature painting with SuperLumiNova
Platinum
Double face full skin alligator with platinum stiches
White Gold deployment Buckle
46.30mm
19.60mm
18'000 v/h
9 Days
30m
Hours (24h), retrograde minutes, seconds on tourbillon, power reserve indicator.
Tellurium (Orrery) functions with: sun (symbolized by the tourbillon), hemispherical earth and tridimensional moon phase. Perpetual calendar with: retrograde date (both sides), day, month and leap year indicators.
Reversed hours indicator
Dimier ''writing desk'' case
Miniature painting with SuperLumiNova
CASE MATERIAL
BRACELET
BUCKLE
DIAMETER
THICKNESS
FREQUENCY
POWER RESERVE
WATER RESISTANCE
18K Red Gold, Platinum
Double face full skin alligator with platinum stiches
18K Red or White Gold deployment Buckle
46.30mm
19.60mm
18'000 v/h
9 Days
30m