Virtuoso VII
Red Gold, Blue Guilloché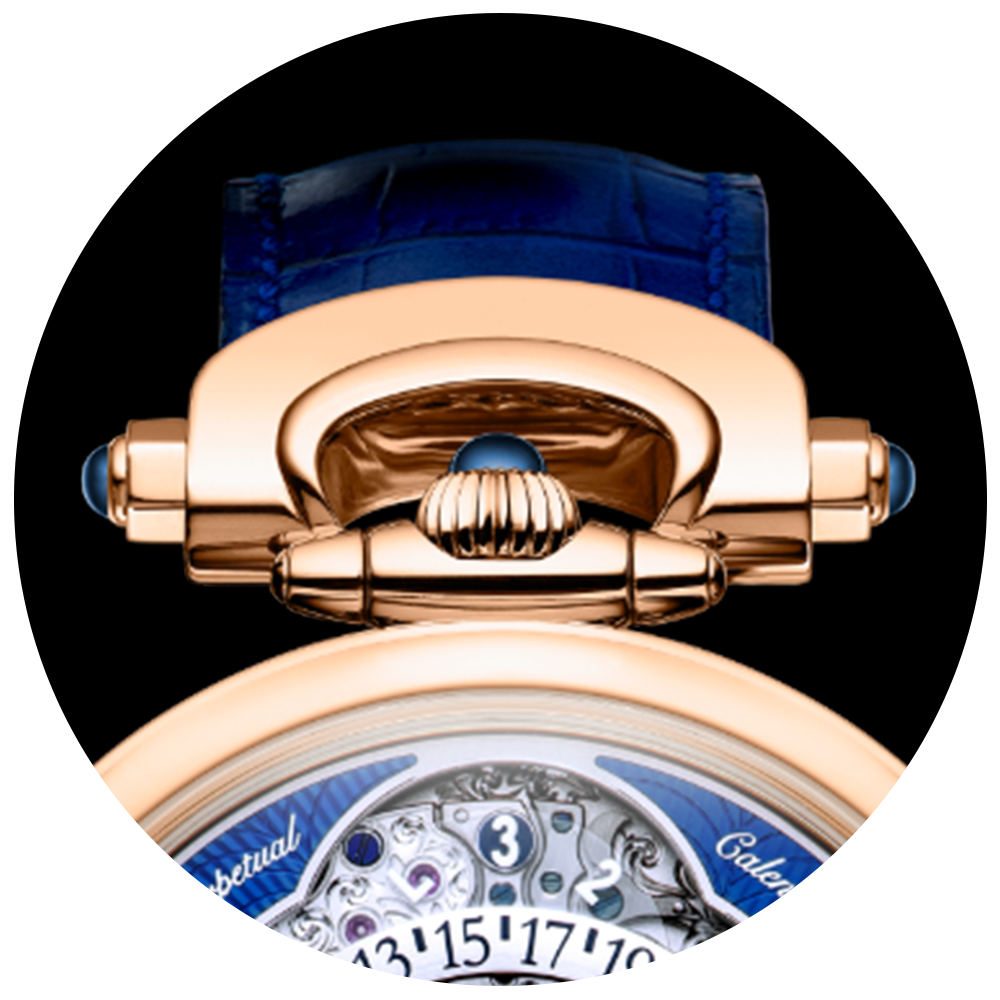 Patented Amadéo® convertible system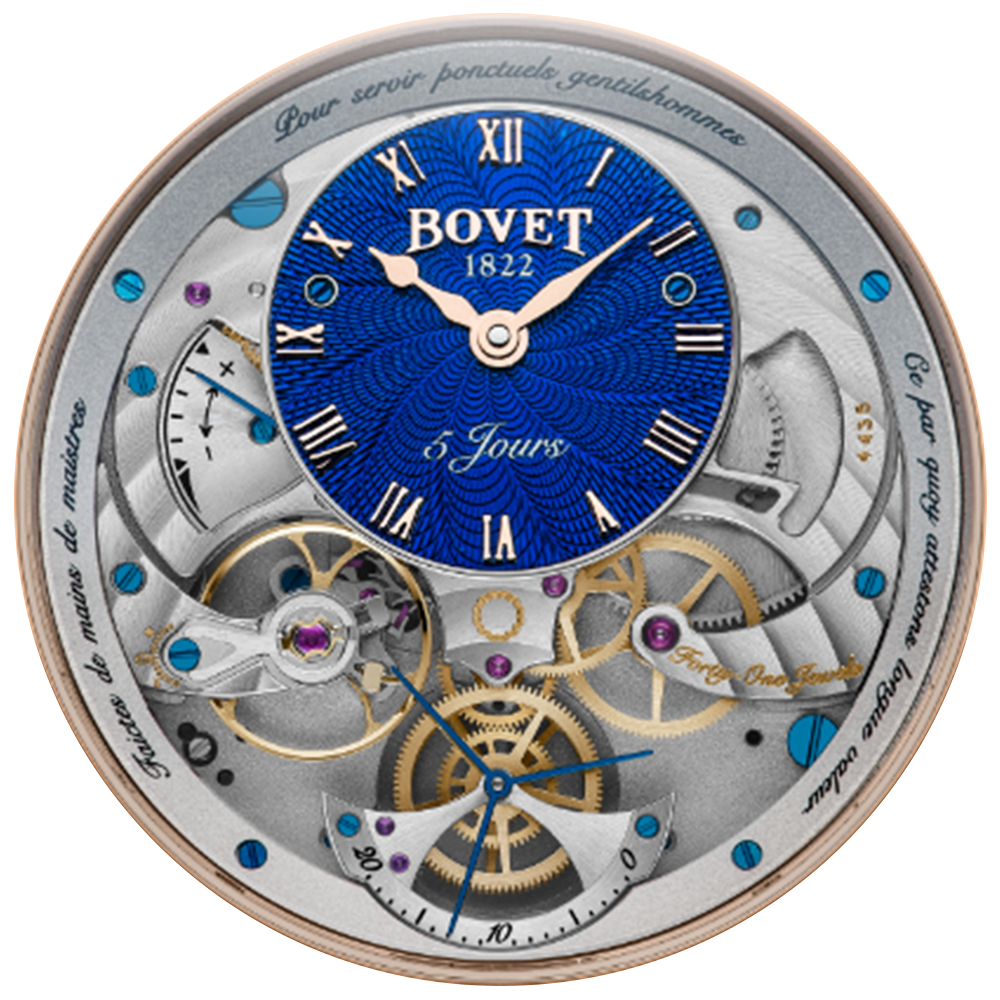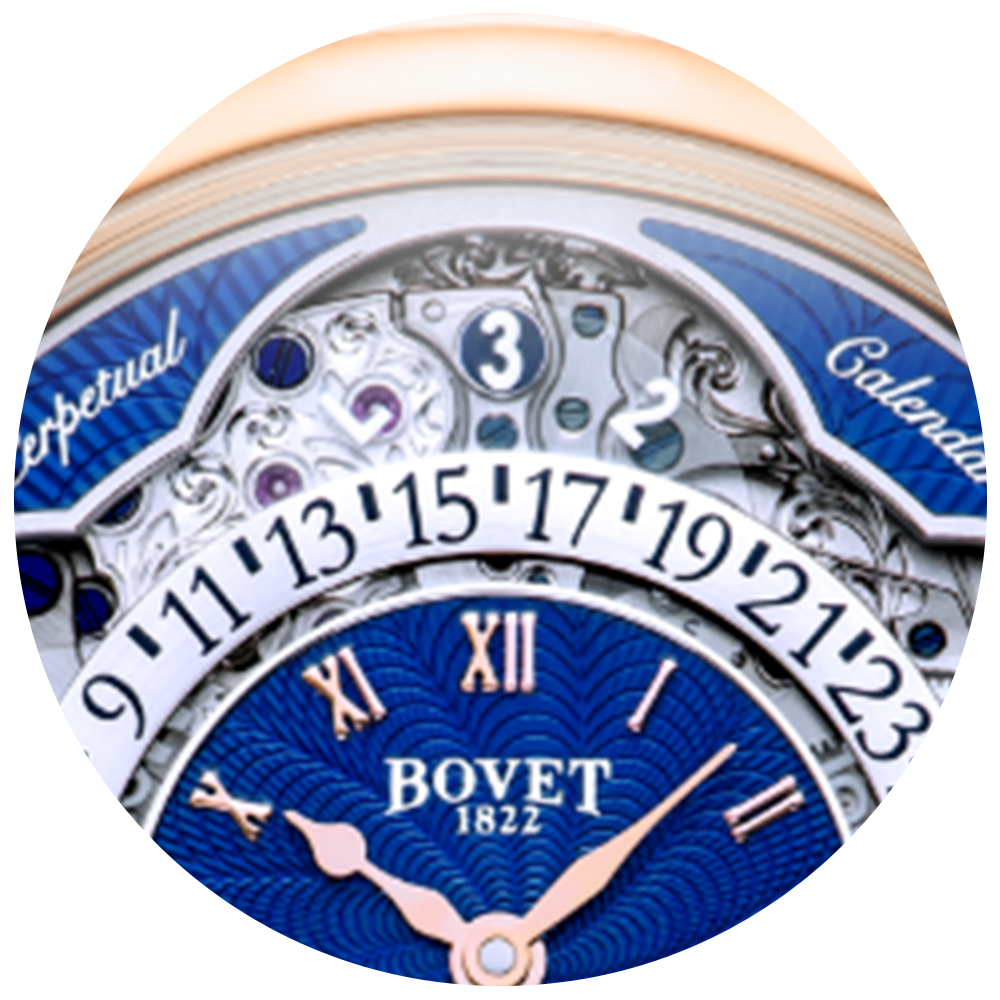 Day, month, leap year, and retrograde date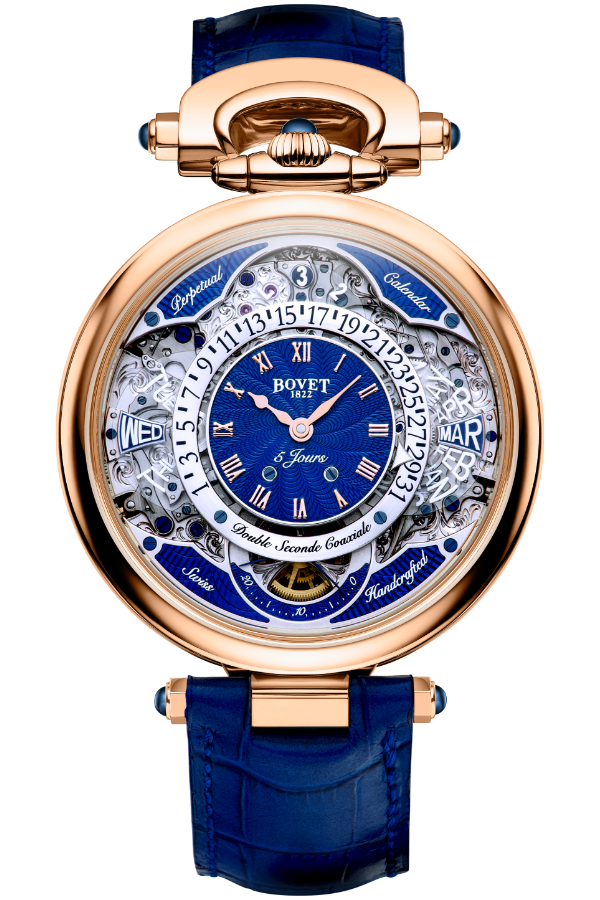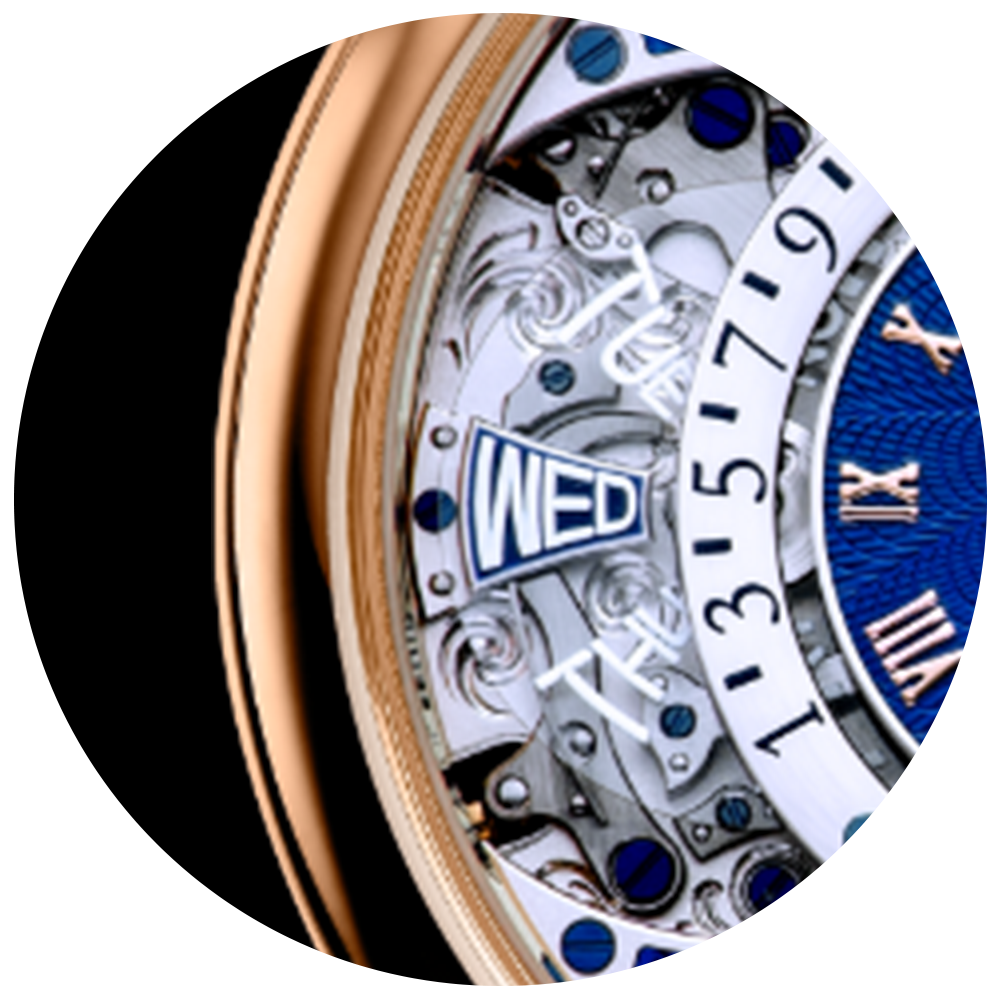 43.30 mm case in 18K red or white gold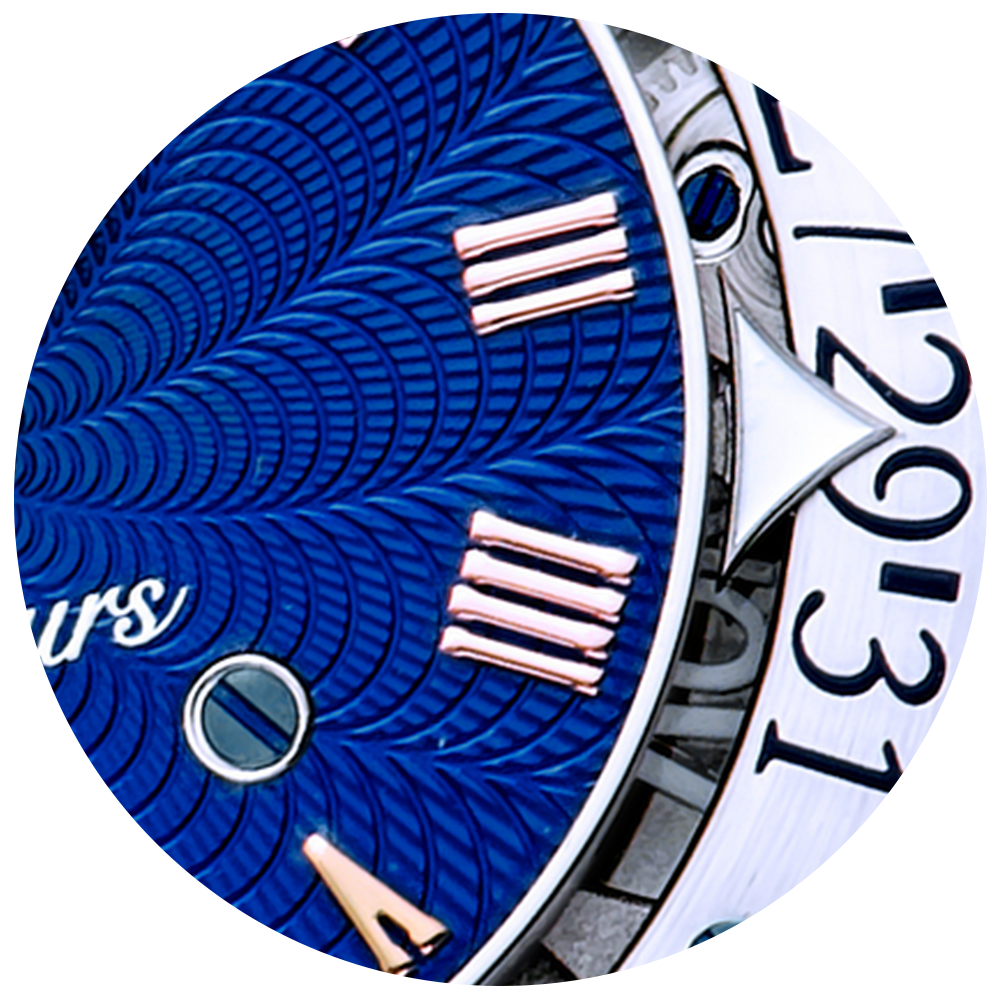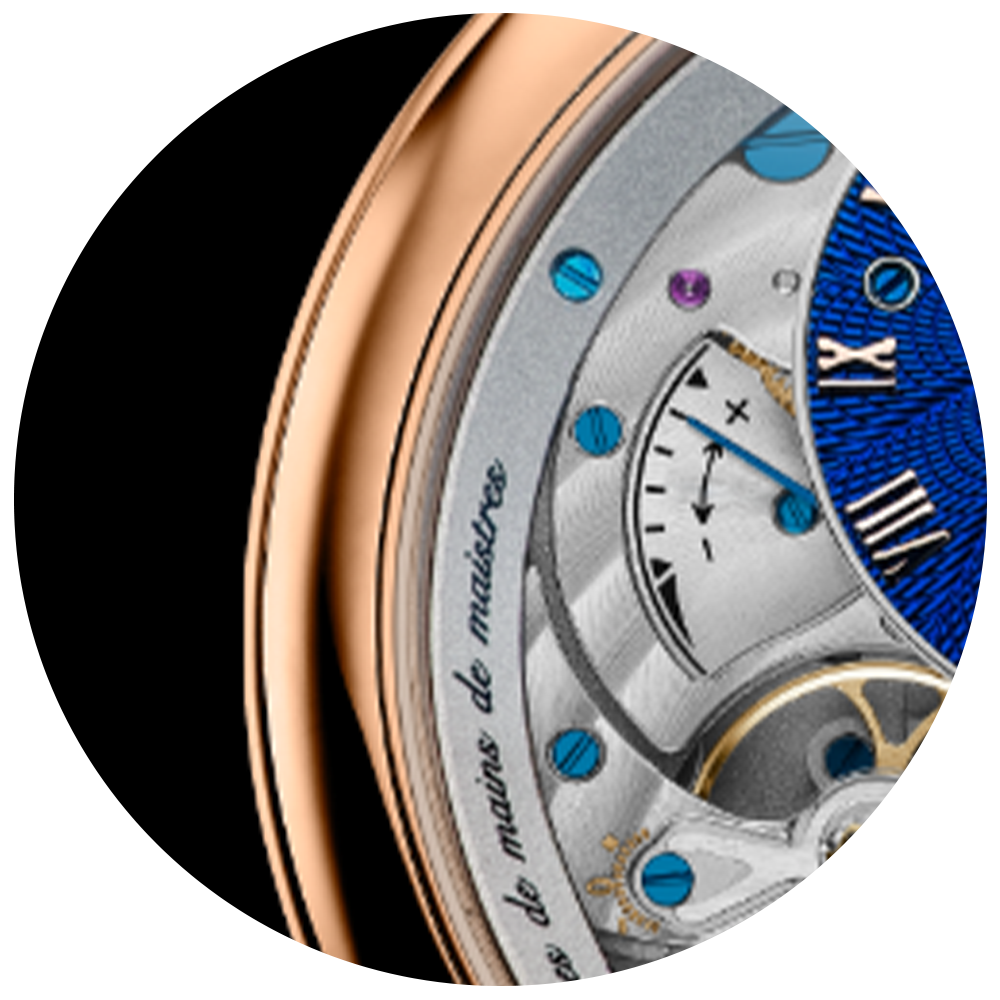 Five-day power reserve with a single barrel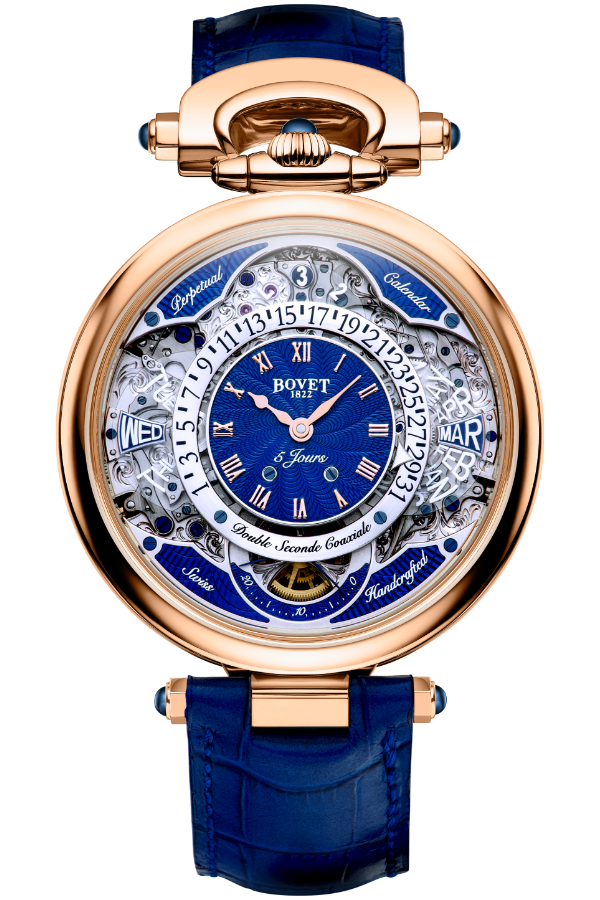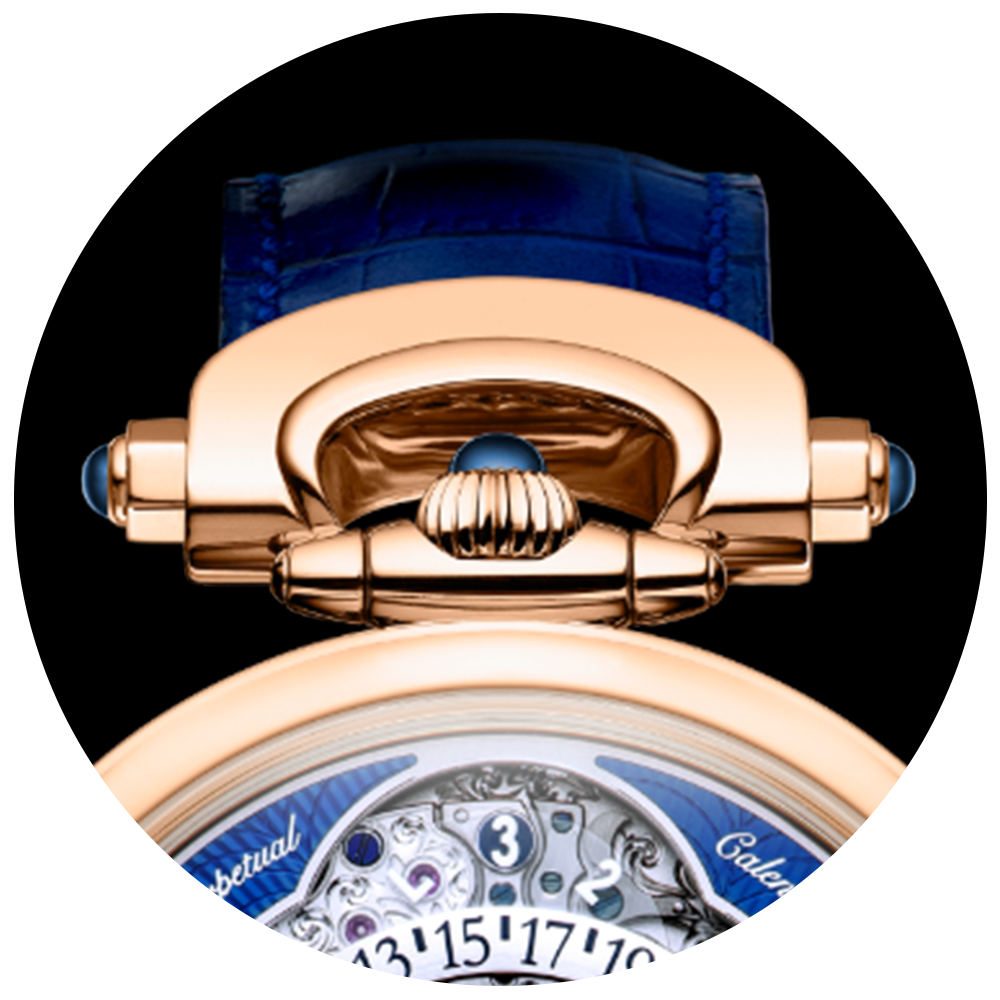 Patented Amadéo® convertible system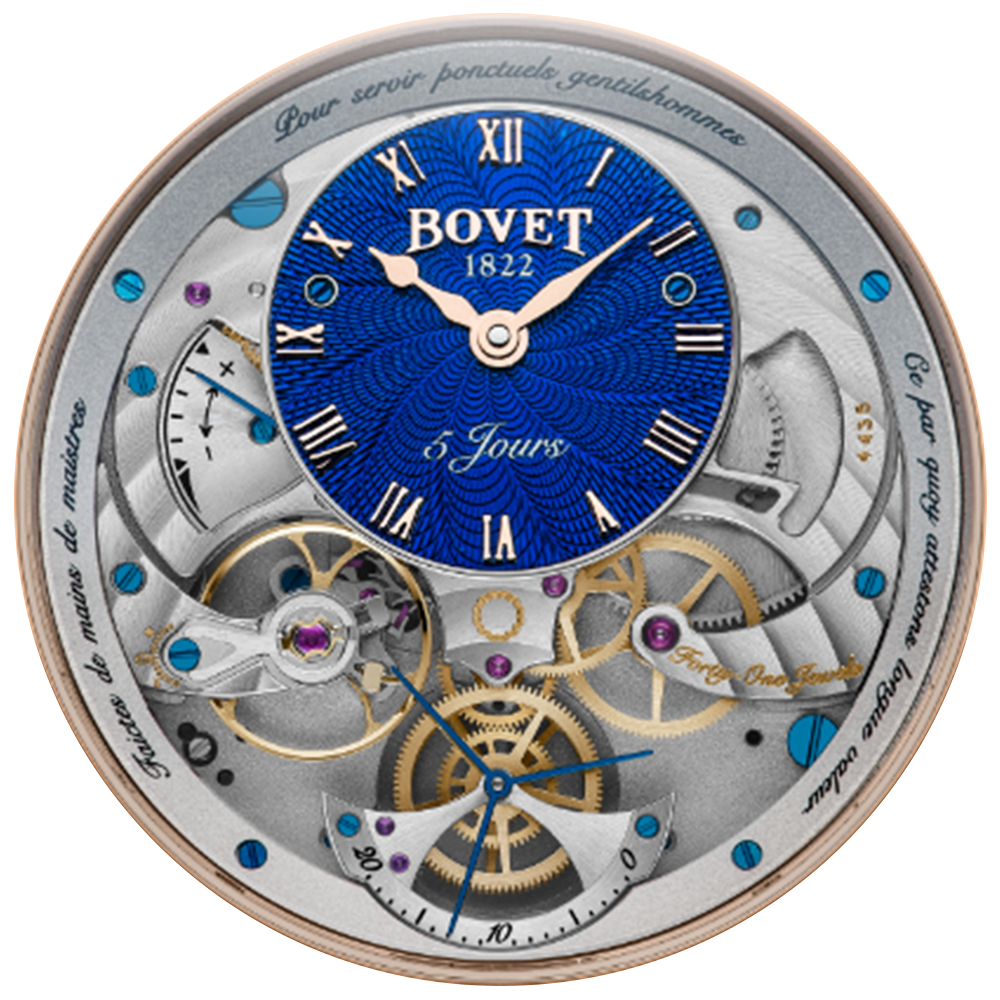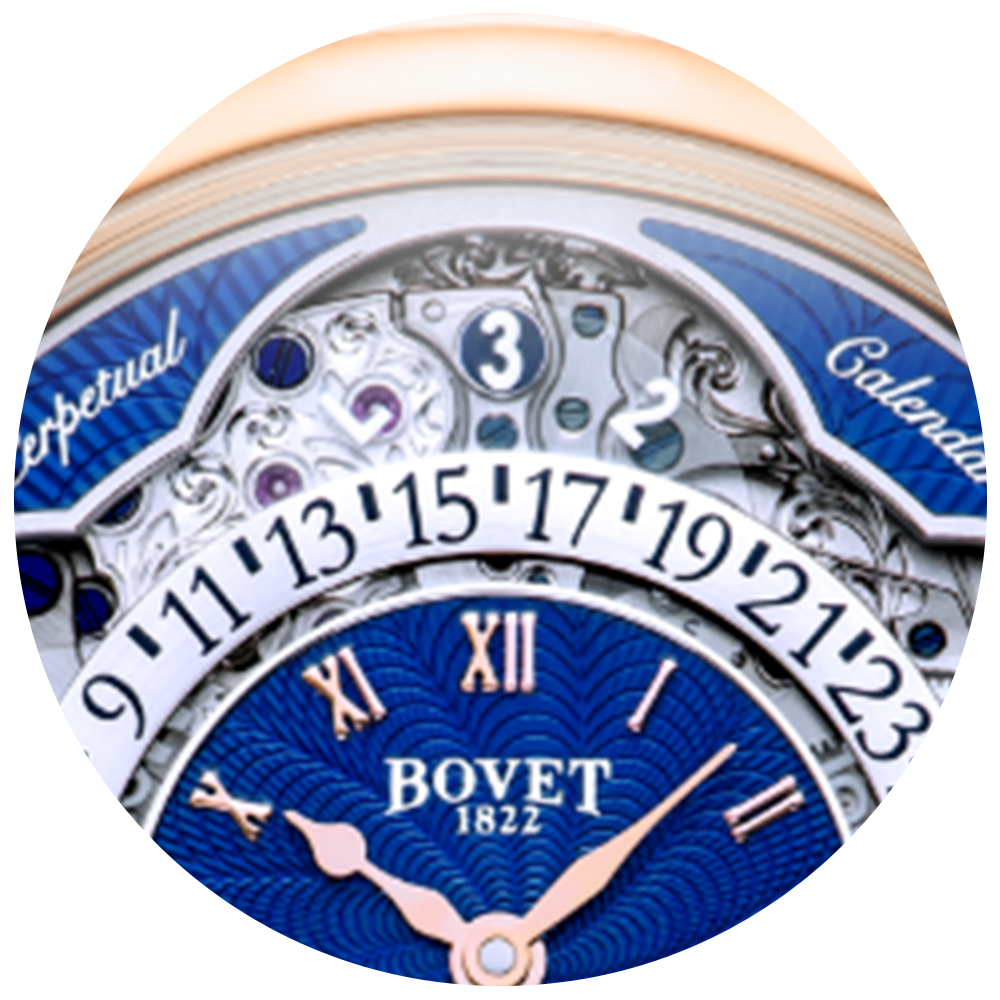 Day, month, leap year, and retrograde date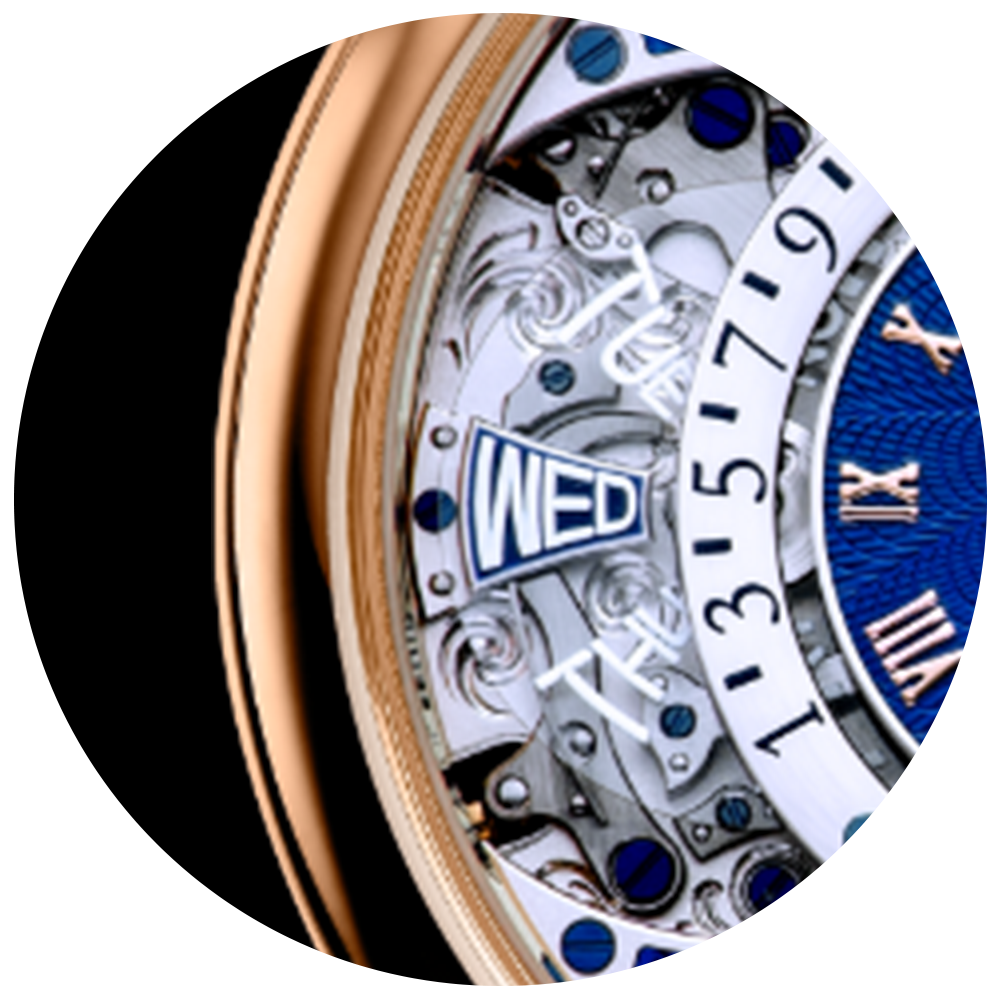 43.30 mm case in 18K red or white gold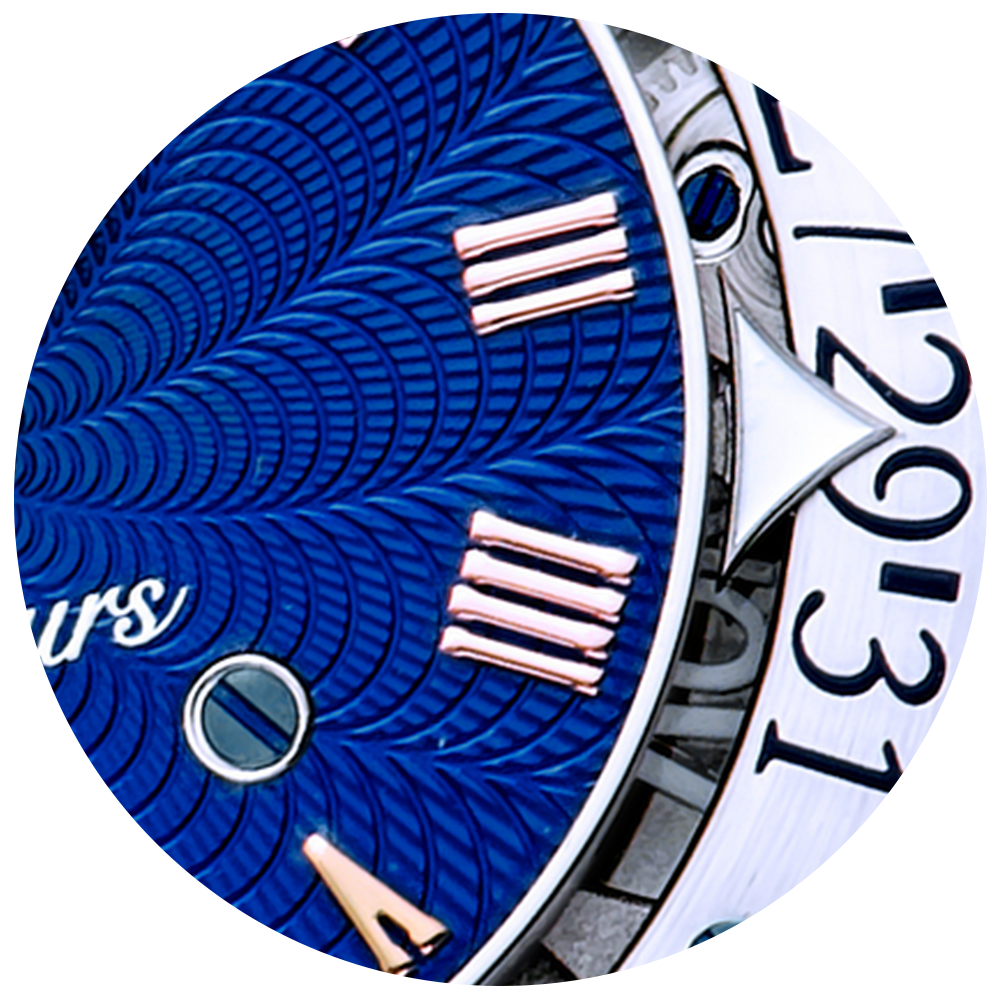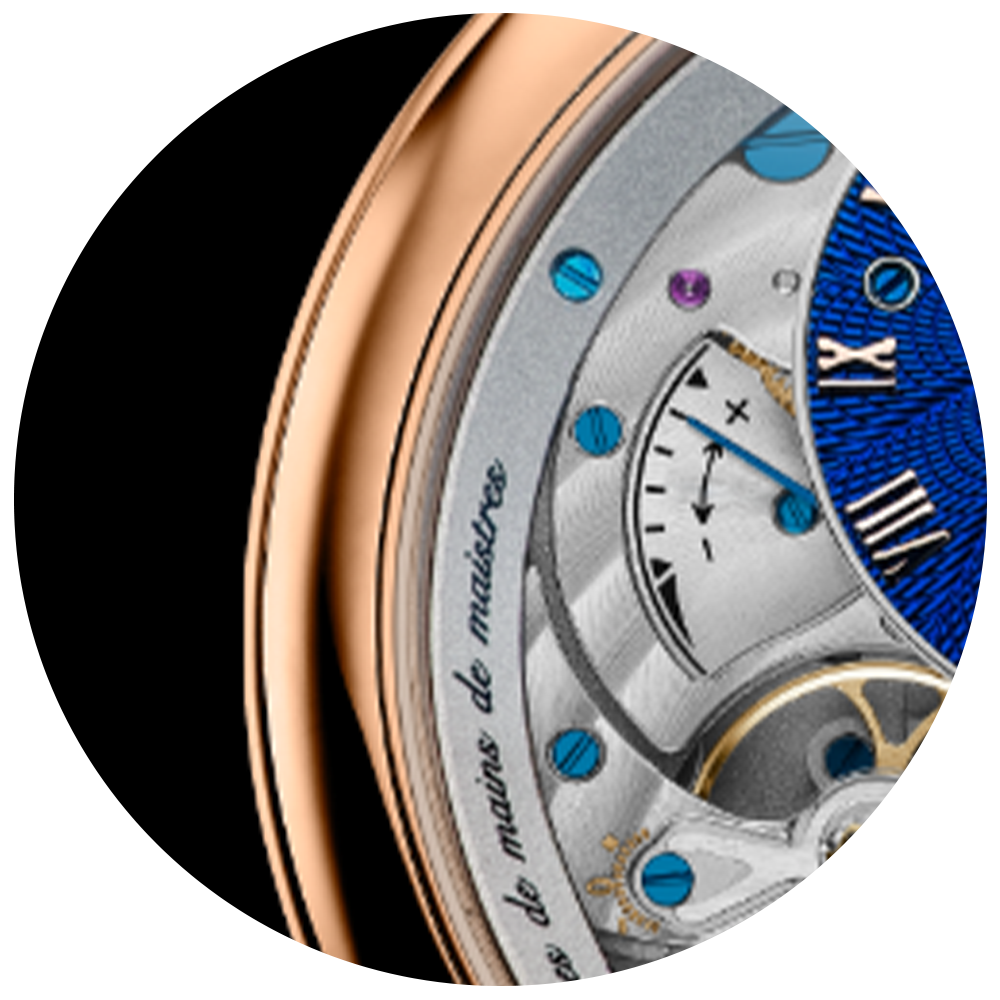 Five-day power reserve with a single barrel
Since the beginning of watchmaking, calendar timepieces have held a particular appeal. High horology's most advanced calendar is the perpetual, one that automatically knows the length of every month. The Virtuoso VII features BOVET's tried-and-true in-house perpetual calendar complication in an easy-to-read and easy-to-use package — the patented Amadeo convertible case.
All serious collectors have to have at least one perpetual calendar in their collections. In fact, many collectors are known to stay up until midnight on the last day of each month, to watch all the indications move at the same time. And December 31 offers an even bigger treat, as the leap year indicator will jump along with all the other indications.
0n one side of the Virtuoso VII is the display layout of the perpetual calendar – day of the week, retrograde date, month, and leap year cycle, all on sapphire crystal disks — while on the other is an off-centered hour/minute dial that showcases the manufacture movement and in-house hairspring and regulating organ. BOVET's patent covers the reverse-fit hands that make sure the time turns clockwise on both sides.
Four timepieces in one, the Virtuoso VII can be worn on either side, used as a table clock or a pocket watch, all without any tools.
Having two sides, the Amadeo convertible system, and the perpetual calendar nearly doubles the time needed to assemble the Virtuoso VII. Each master watchmaker who assembles this movement from start to finish, with its 356 components, is looking at more than 19 hours of constant attention to detail.
Keep this 5-day power reserve timepiece wound and it will be accurate until the year 2100, when the leap year will be skipped in order to adjust the Gregorian calendar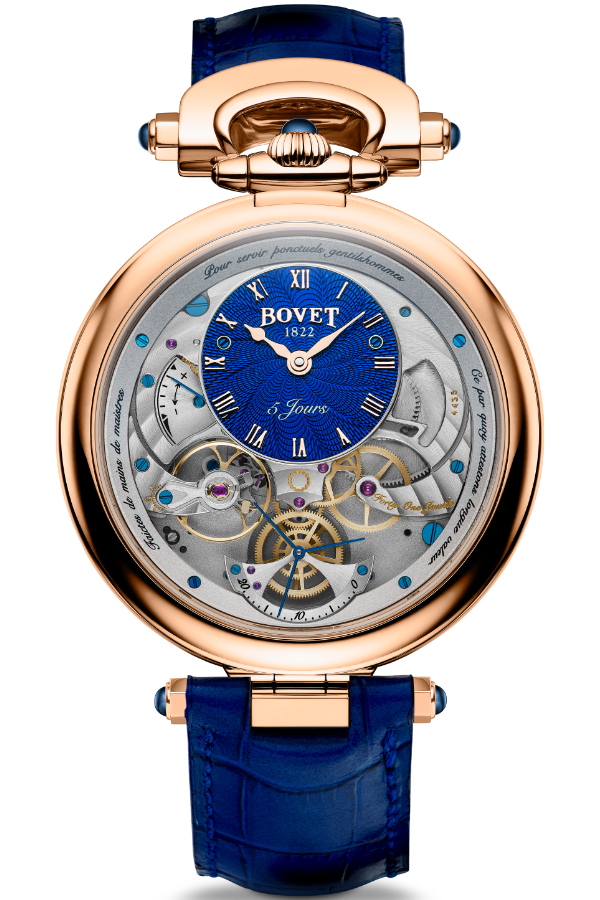 Hours, minutes, sub-seconds (patented coaxial seconds), day, retrograde date, month, leap year, power reserve indicator, reversed hand-fitting (hours, minutes and seconds)
CASE TYPE
DIAL
FINISHING 
CASE MATERIAL
BRACELET
BUCKLE
DIAMETER
THICKNESS
FREQUENCY
POWER RESERVE
WATER RESISTANCE
Amadeo Convertible System
Blue
Guilloché
18K Red Gold
Calf skin
18K Red Gold Ardillon
43.30mm
15.80mm
21'600 v/h
5 Days
30m
Hours, minutes, sub-seconds (patented coaxial seconds), day, retrograde date, month, leap year, power reserve indicator, reversed hand-fitting (hours, minutes and seconds)
Amadeo Convertible System
CASE MATERIAL
BRACELET
BUCKLE
DIAMETER
THICKNESS
FREQUENCY
POWER RESERVE
WATER RESISTANCE
18K Red Gold
Calf skin
18K Red Gold Ardillon
43.30mm
15.80mm
21'600 v/h
5 Days
30m