Virtuoso XI
18K White Gold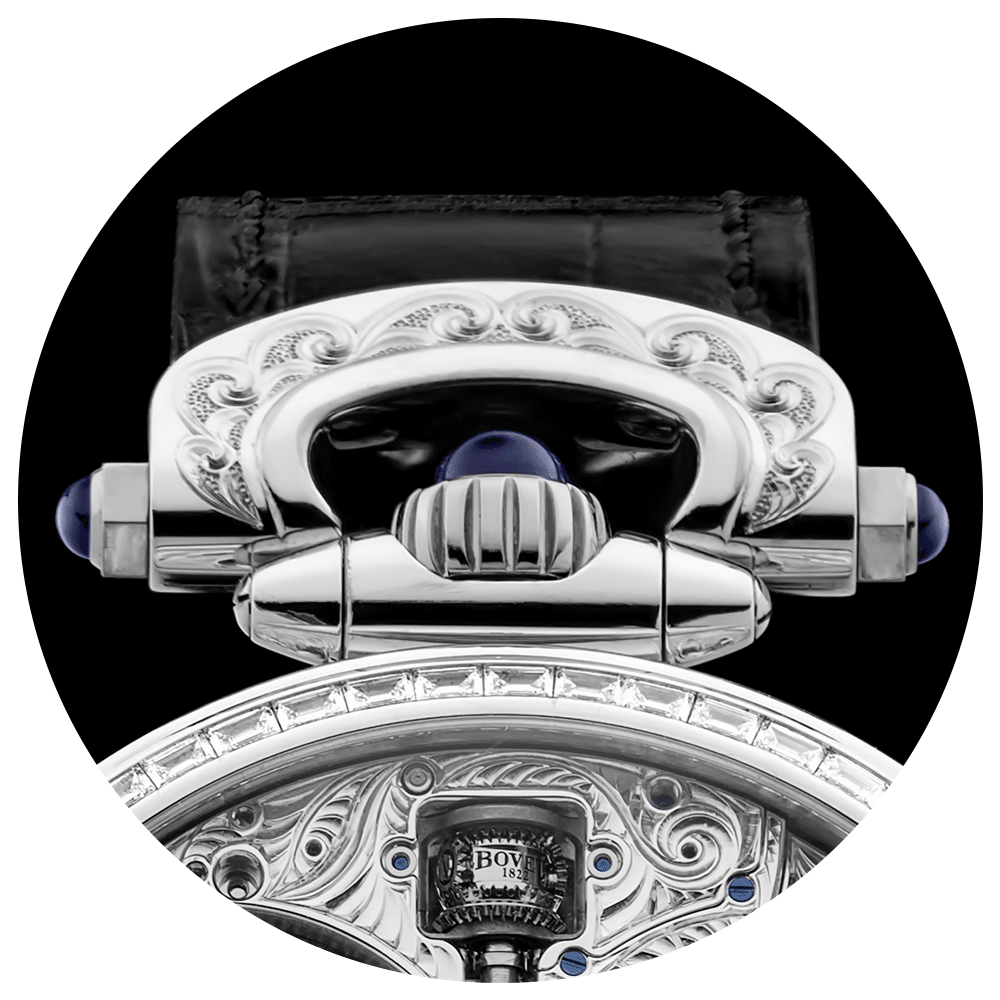 Signature Fleurier case with the bow at 12 o'clock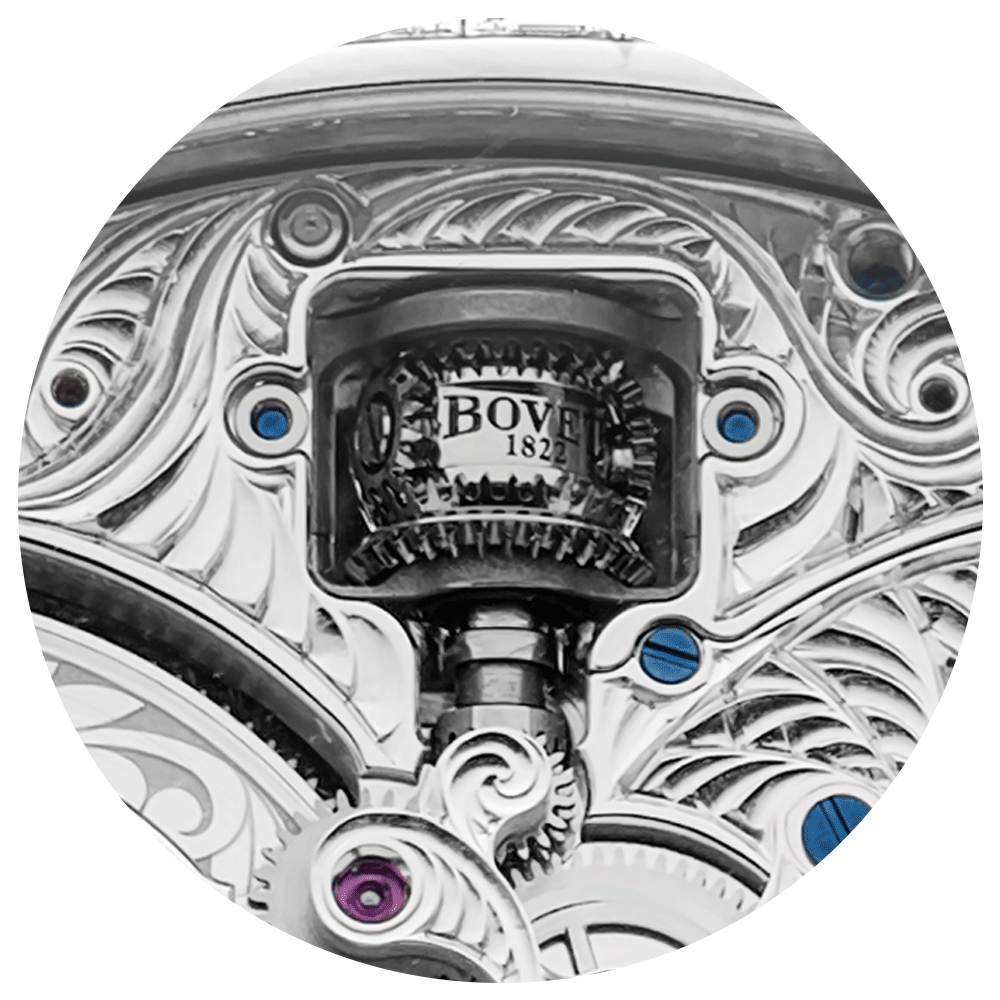 Patented spherical rewinding system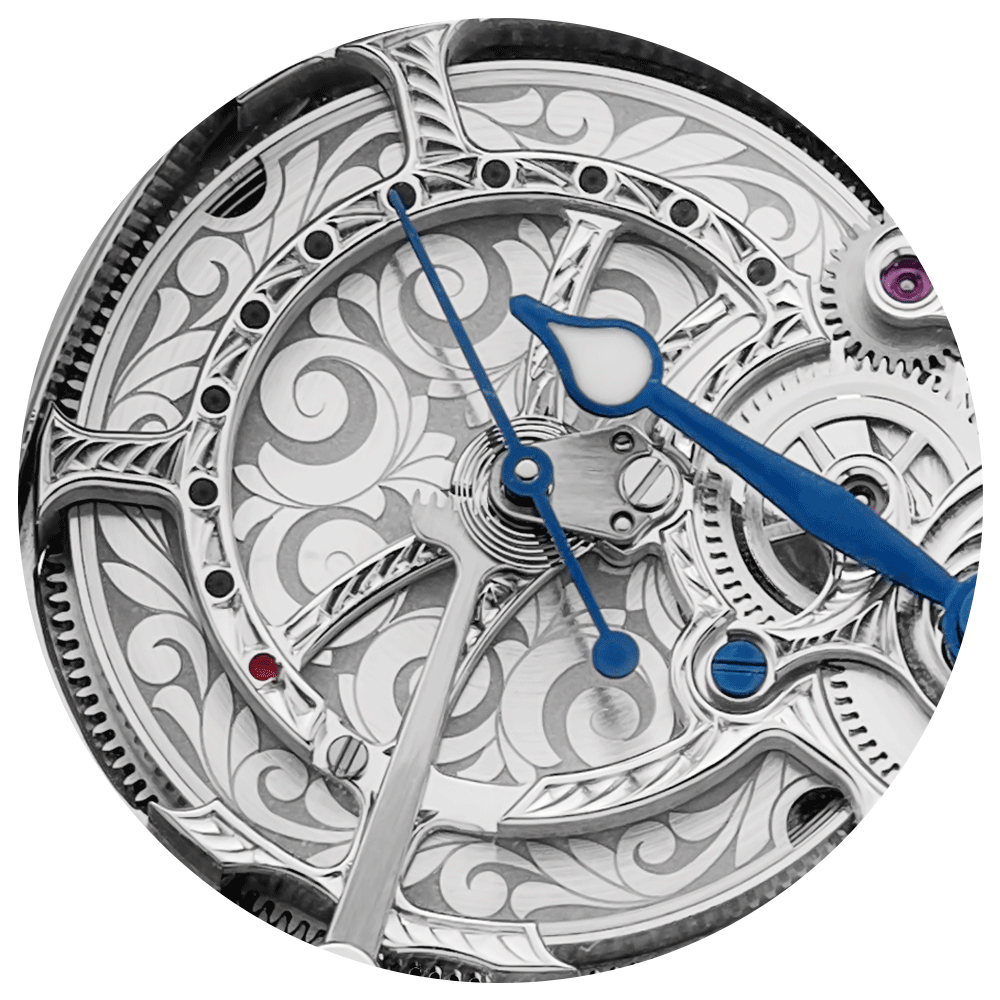 10-Day power reserve with a single barrel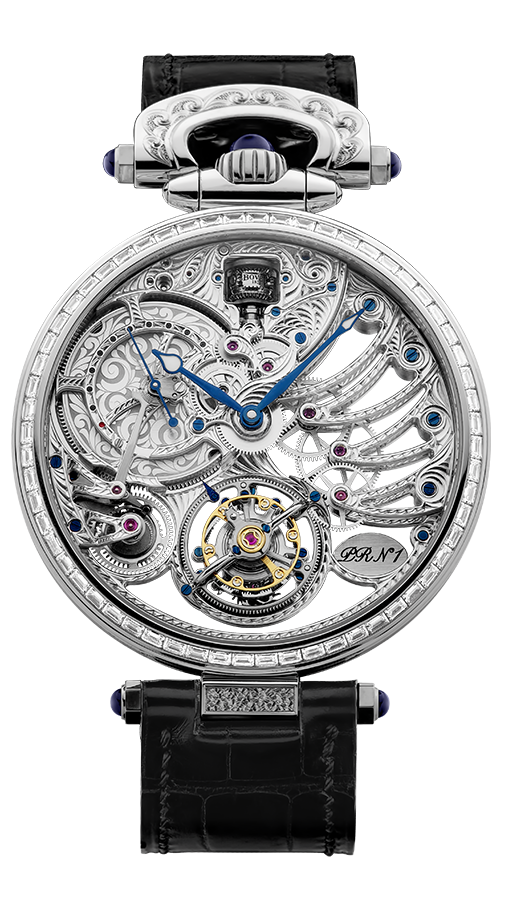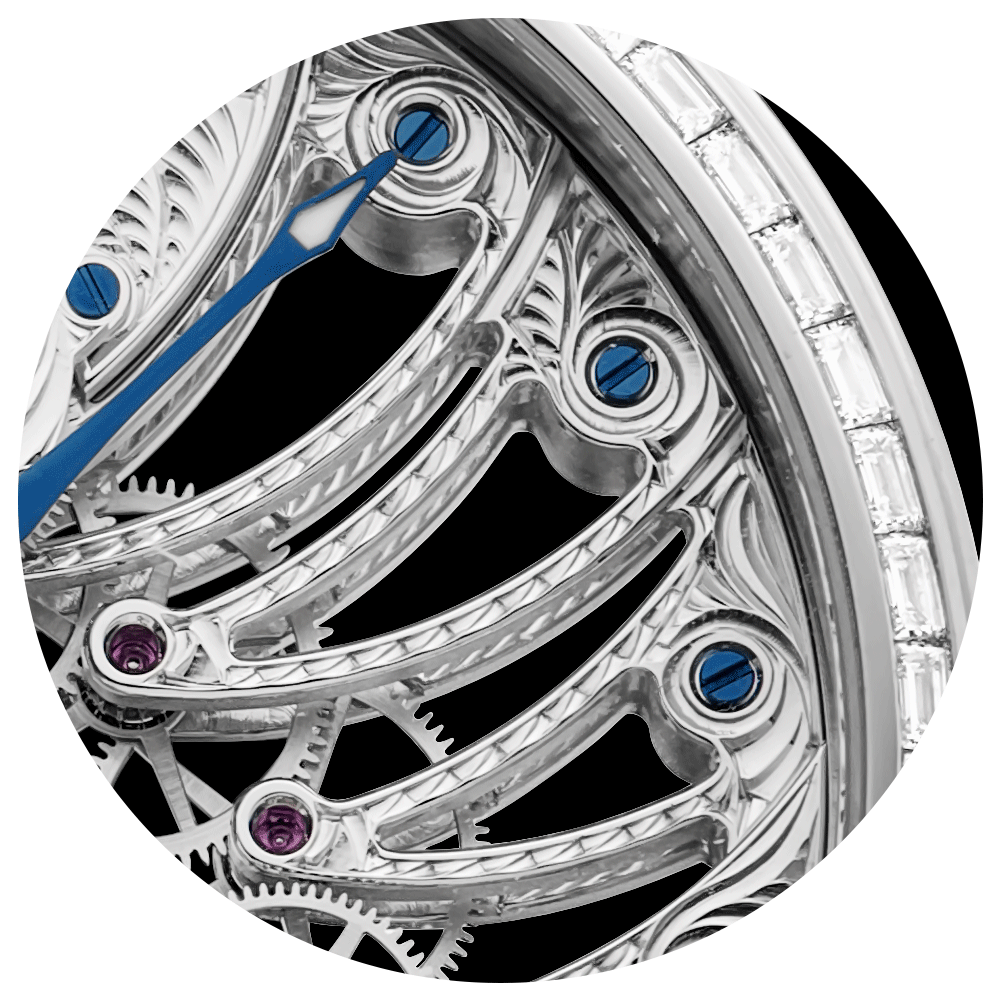 Every plate, bridge and other surface fully hand-engraved on both sides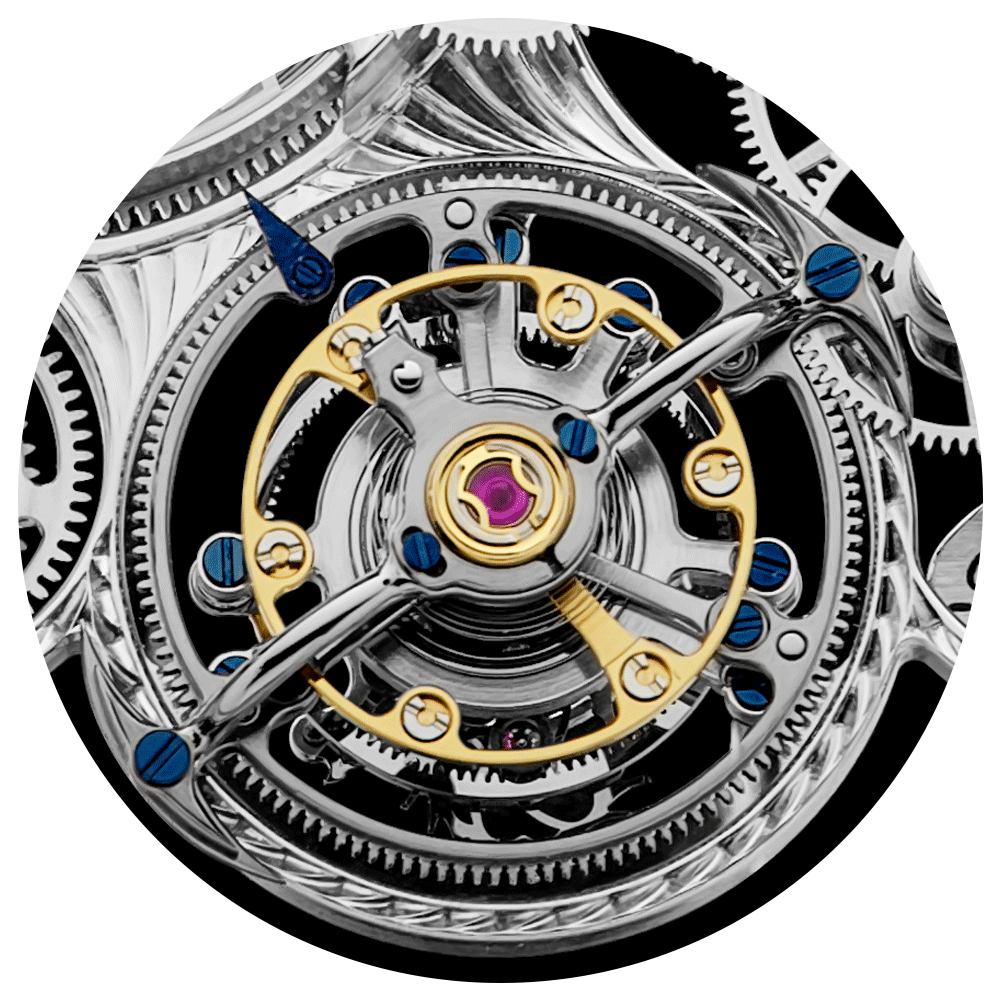 Patented double-sided flying tourbillon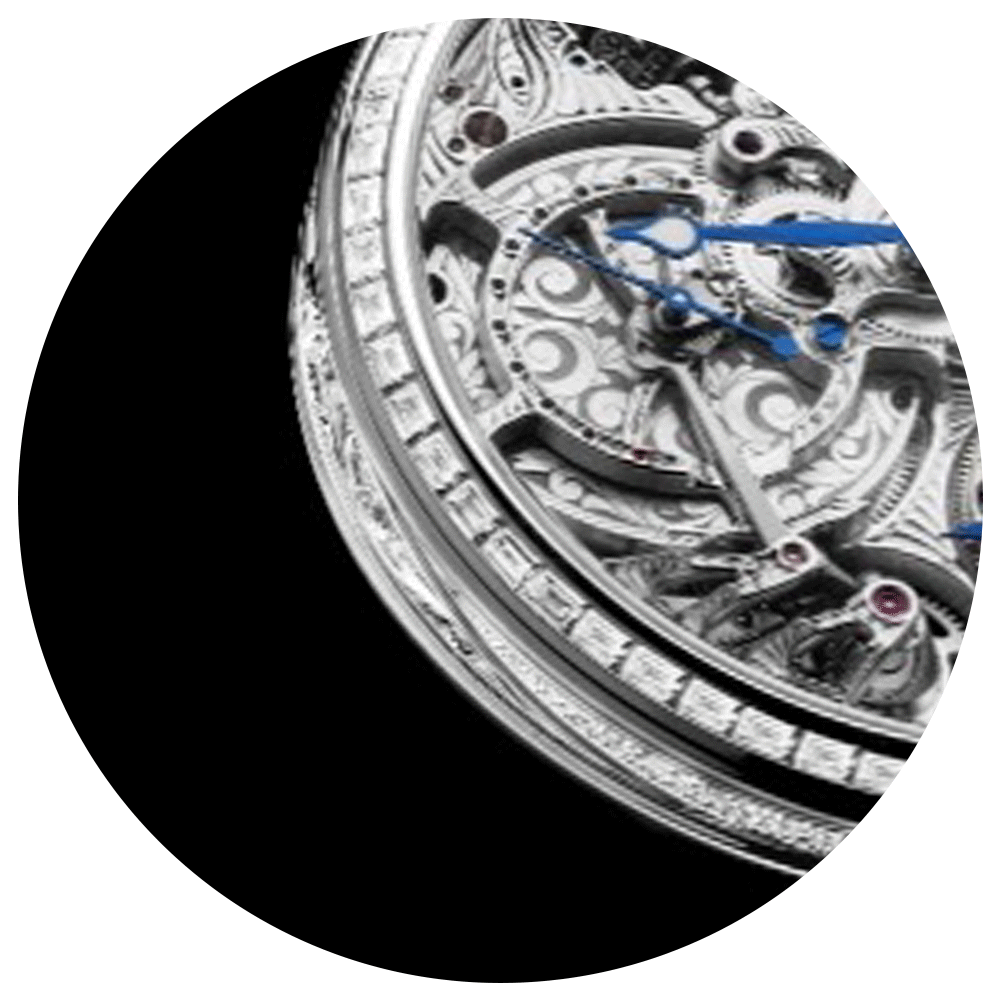 80+ hours to engrave the movement and trademarked Writing Slope case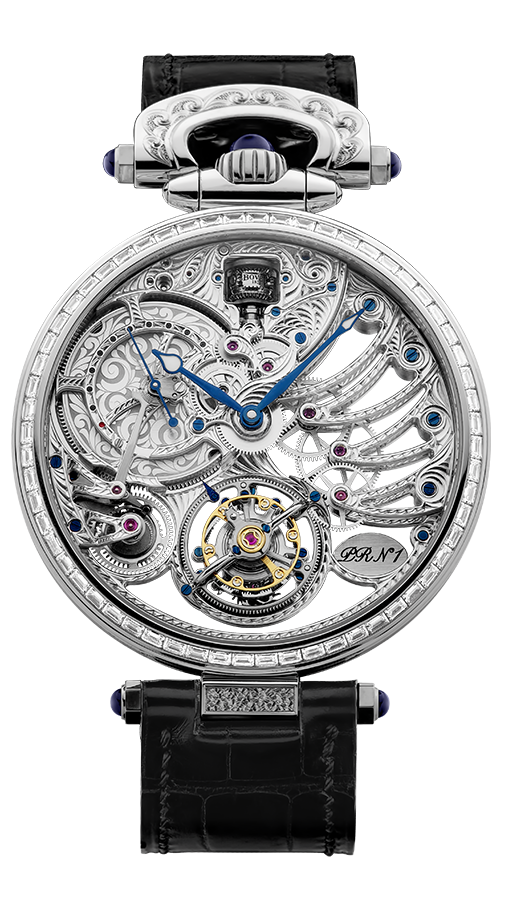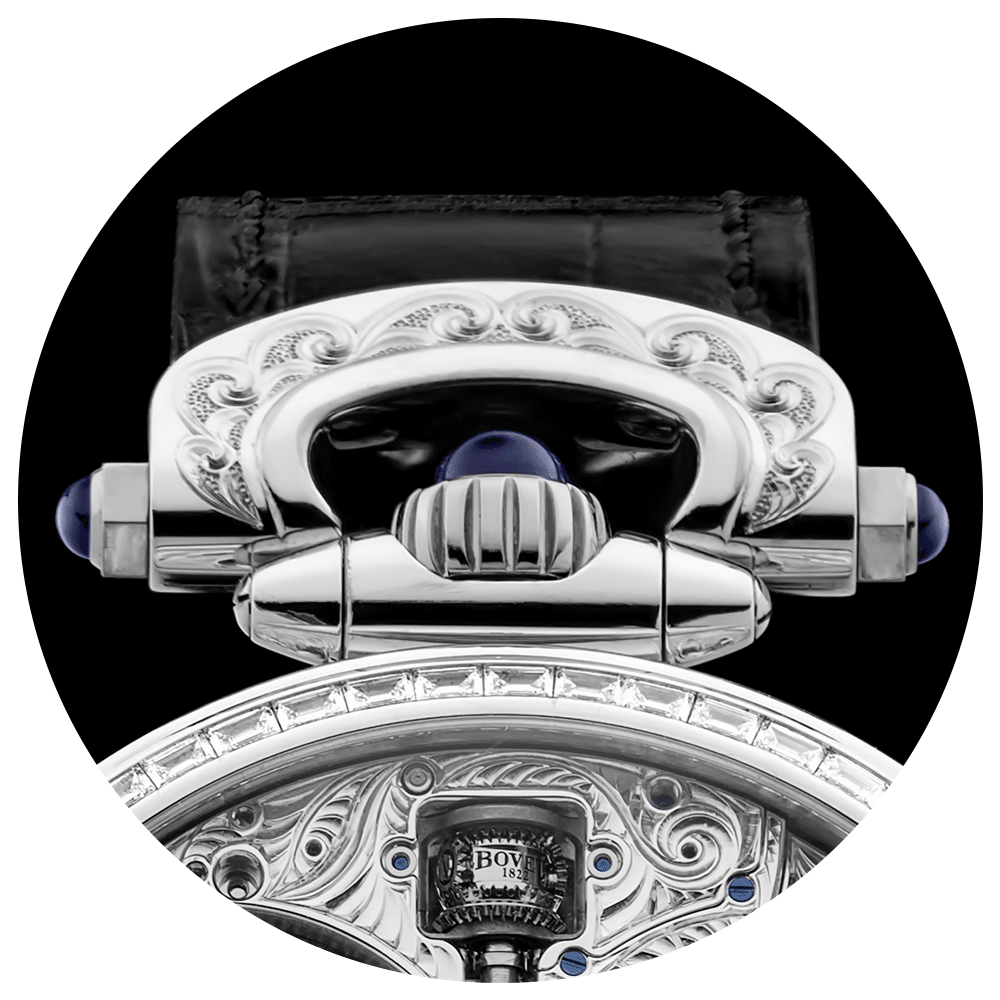 Signature Fleurier case with the bow at 12 o'clock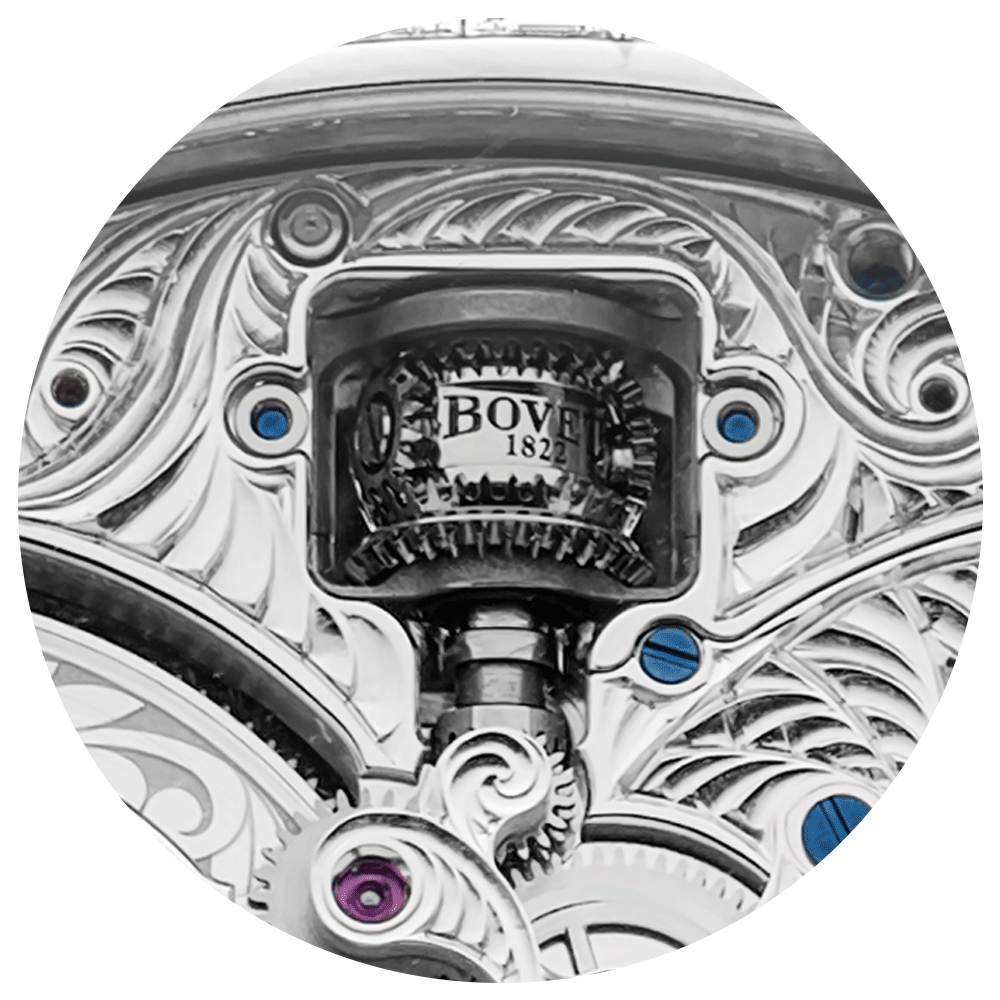 Patented spherical rewinding system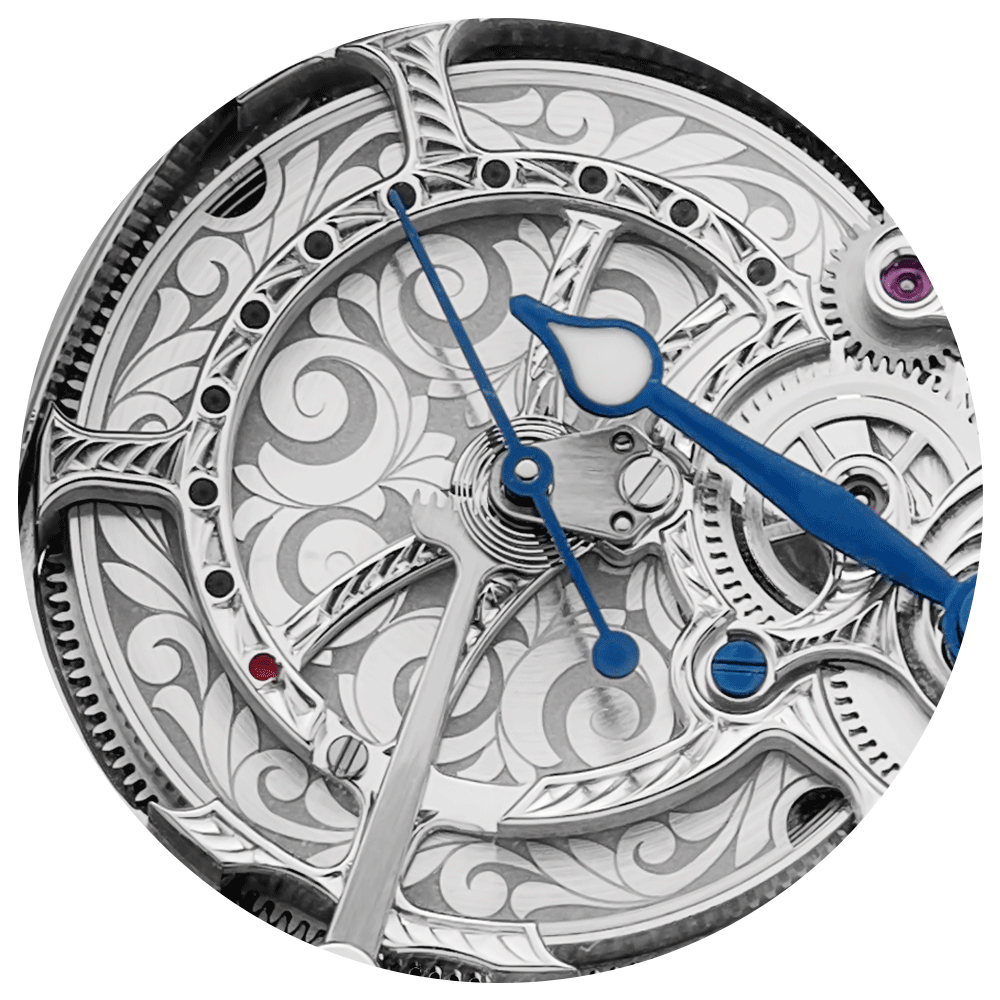 10-Day power reserve with a single barrel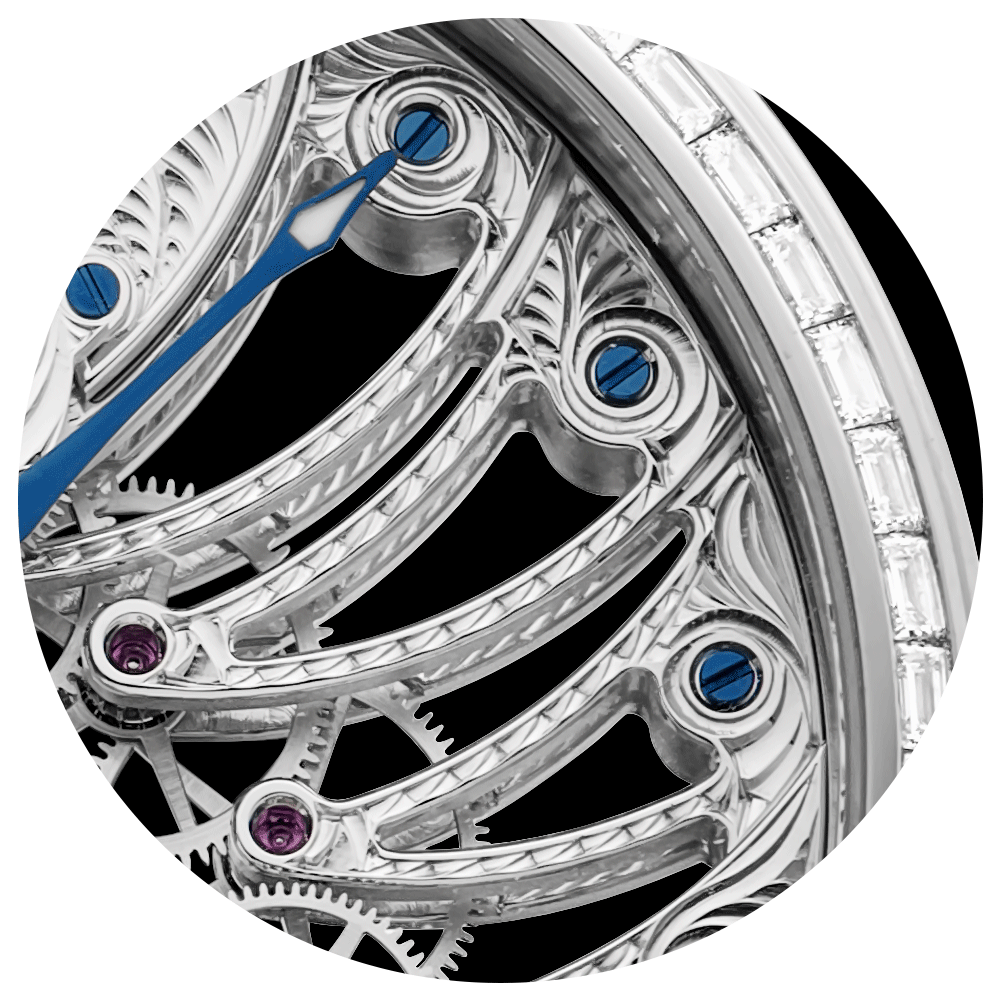 Every plate, bridge and other surface fully hand-engraved on both sides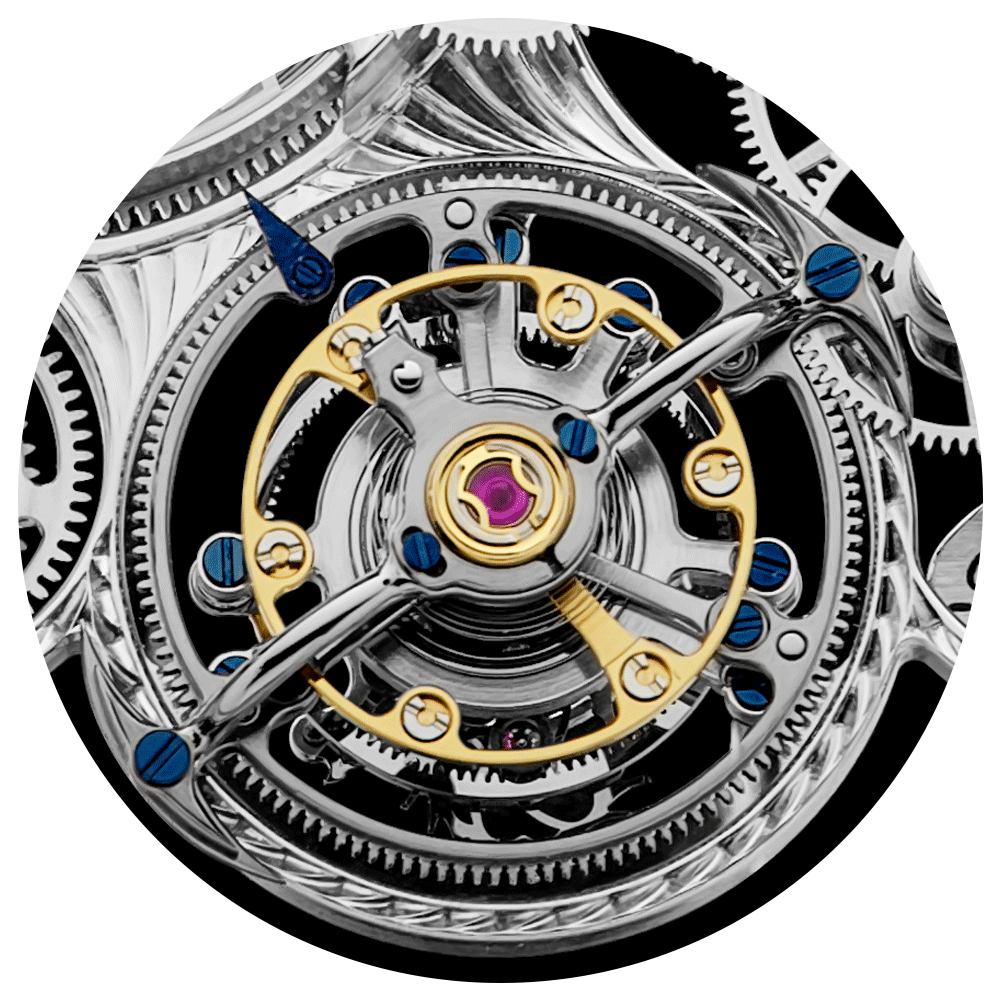 Patented double-sided flying tourbillon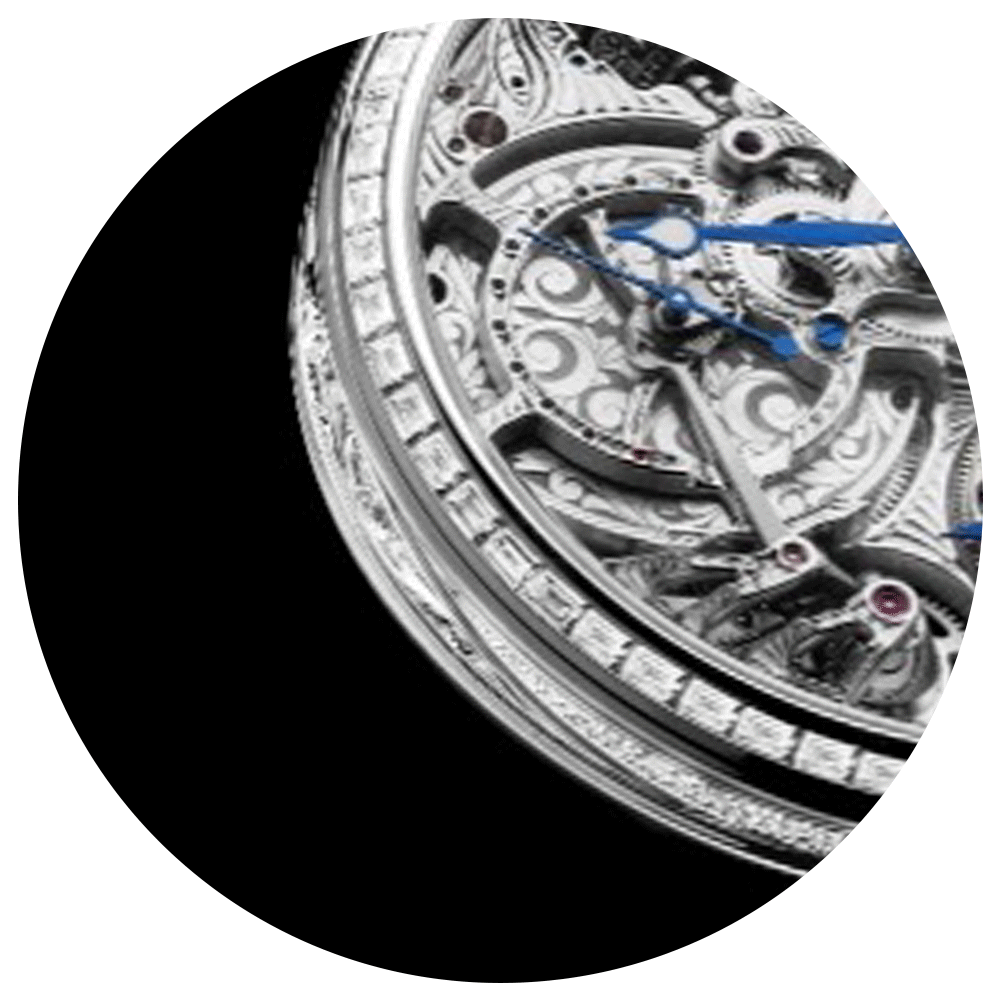 80+ hours to engrave the movement and trademarked Writing Slope case
The new BOVET 1822 Virtuoso XI is the very first full skeleton timepiece the House has ever introduced. BOVET has done several timepieces that show a great deal of the movement (like the Virtuoso III or the Amadéo Amadéo), but they all had dials and were not completely skeletonized. To remedy this, BOVET 1822 owner Mr. Pascal Raffy decided to design the movement to be completely skeletonized and engraved, while at the same time keeping it refreshingly simple with just the flying tourbillon, hours and minutes, and the power reserve.
BOVET 1822 has a complete hand-engraving and finishing workshop within the Tramelan manufacture. The Virtuoso XI was realized in this workshop, working on the components designed to be completely skeletonized and hand-engraved on both sides.
The engravers at BOVET love a challenge, and the start of the engraving for the Virtuoso XI — even the pont de minuterie (the minute train bridge) is engraved (in fact, this bridge was designed to be thicker so it could be engraved) — resulted in a lot of consternation, wringing hands, shaking heads, and the repeated use of the word fou (French for "crazy"). Once they started, however, the artisans took up the gauntlet and the finished movement is a triumph of the human touch and the artistry of the engraver.
The hand-engraving for the Virtuoso XI takes around 60 hours for the movement and the Writing Slope case. The engraving is done free-hand and leaves no room for mistakes. As a result, the production of the Virtuoso XI is severely limited, due to the time it takes to engrave and finish each movement and case, and the meticulousness needed at every step — the artisans at BOVET can only produce one or two a month.
The manufacture of the Virtuoso XI with its 283 components, takes between five and six weeks, including the finishing, skeletonizing, and engraving. No assembly lines at BOVET 1822.
By our count, 60 pairs of hands, or 120 individual hands, interact with the Virtuoso XI as it makes its way through the production process.

Hours, minutes, seconds on Tourbillon, Power Reserve Indicator
CASE TYPE
DIAL
FINISHING 
CASE MATERIAL
BRACELET
BUCKLE
DIAMETER
THICKNESS
FREQUENCY
POWER RESERVE
WATER RESISTANCE
Writing Slope
skeletonized
Fully hand-engraved
18K White Gold
Full skin alligator
18K White Gold deployment Buckle
44.00mm
13.45mm
18'000 v/h
10 days
30m
Hours, minutes, seconds on Tourbillon, Power Reserve Indicator
CASE MATERIAL
BRACELET
BUCKLE
DIAMETER
THICKNESS
FREQUENCY
POWER RESERVE
WATER RESISTANCE
18K White Gold
Full skin alligator
18K White Gold deployment Buckle
44.00mm
13.45mm
18'000 v/h
10 days
30m