Swiss Handcrafted vs. Swiss Made
Words Have Meaning
Swiss Made is no doubt a very important standard and its purpose is to reassure people that the watches they are buying are actually fabricated in Switzerland.
From The House of BOVET's standpoint, however, it doesn't really go far enough.
You see, the Swiss Made standard is far too low for BOVET. Basically, the requirement for the Swiss Made designation boils down that to be considered a Swiss Made watch, at least 60% of manufacturing costs must be generated in Switzerland (this was increased from 50% in 2017, in order to strengthen the Swiss Made label).
There are no assembly lines in the BOVET manufacture – at every step of the way, the components are examined, checked, and finished by human hands.
Since BOVET is a manufacture, with its own facility in Tramelan, Switzerland, 95% of the components that make up its timepieces are made in Switzerland. The only things BOVET doesn't make are the sapphire crystals, the straps, and the mainspring. In fact, BOVET is one of only a handful of companies that makes its own hairsprings, escapements, and regulating organs.
Many manufactures in Switzerland do one or two of these processes, but it is quite rare that a manufacture masters all four, something BOVET has done. In fact, the stamping operation is so unique that BOVET does work for other industries, including aeronautics, electronics, medical, and more.
In addition, at every step of the way, the technicians and artisans inside the BOVET manufacture examine and finish the components by hand. For example, the bridge of one of BOVET's tourbillon is finished by hand by one artisan from start to finish, a process that takes more than a full day.
This specialist starts out with rough finishing strips (the watchmaking equivalent of sandpaper for wood), then moves to progressively fine strips. Everything is done by sight and feel, requiring a great deal of expertise. Taking away too much material will ruin the component, while not taking away enough material will result in a timepiece that is not precise, as well as not being aesthetically pleasing.
The facility is set up so that raw materials come in and then are sent through the four main manufacturing processes:
Profile Tuning
Where bars of specialist metals are cut by machines into smaller parts.
CNC
The production of parts via computerized machines that mill the various parts.
Electro-Erosion
Where the parts are cut by a charged electrical wire.
Precision Stamping
This process converts flat metal blanks into precision parts.
Take for example the Virtuoso VII, one of the several perpetual calendars in the BOVET collection.
The movement itself is incredibly complicated, with a total of 356 components that allow the timepiece to accurately display the time, as well as to control the displays of the perpetual calendar (date, day of the week, month, leap year). The movement of the Virtuoso VII is so precise it doesn't have to be adjusted, if kept wound, for 400 years.
The Virtuoso VII is double-faced, with reversed-fitted hands, and is housed in the patented Amadeo case, which allows you to wear it showcasing either side (the perpetual calendar side or a simple time display), use it as a pocket watch or a desk clock, all without needing any tools.
All these components are produced in-house, including the hairspring and the regulating organ. The guilloche dials are done in house, then covered with eight layers of colored lacquer and then polished.
The bridges and select of the movement are hand-engraved in the manufacture's own workshops by expert artisans, each using a microscope to accomplish this demanding task. Each timepiece requires about 100 hours of hand-work to complete.
On top of all this, the Virtuoso VII has five full days of power reserve.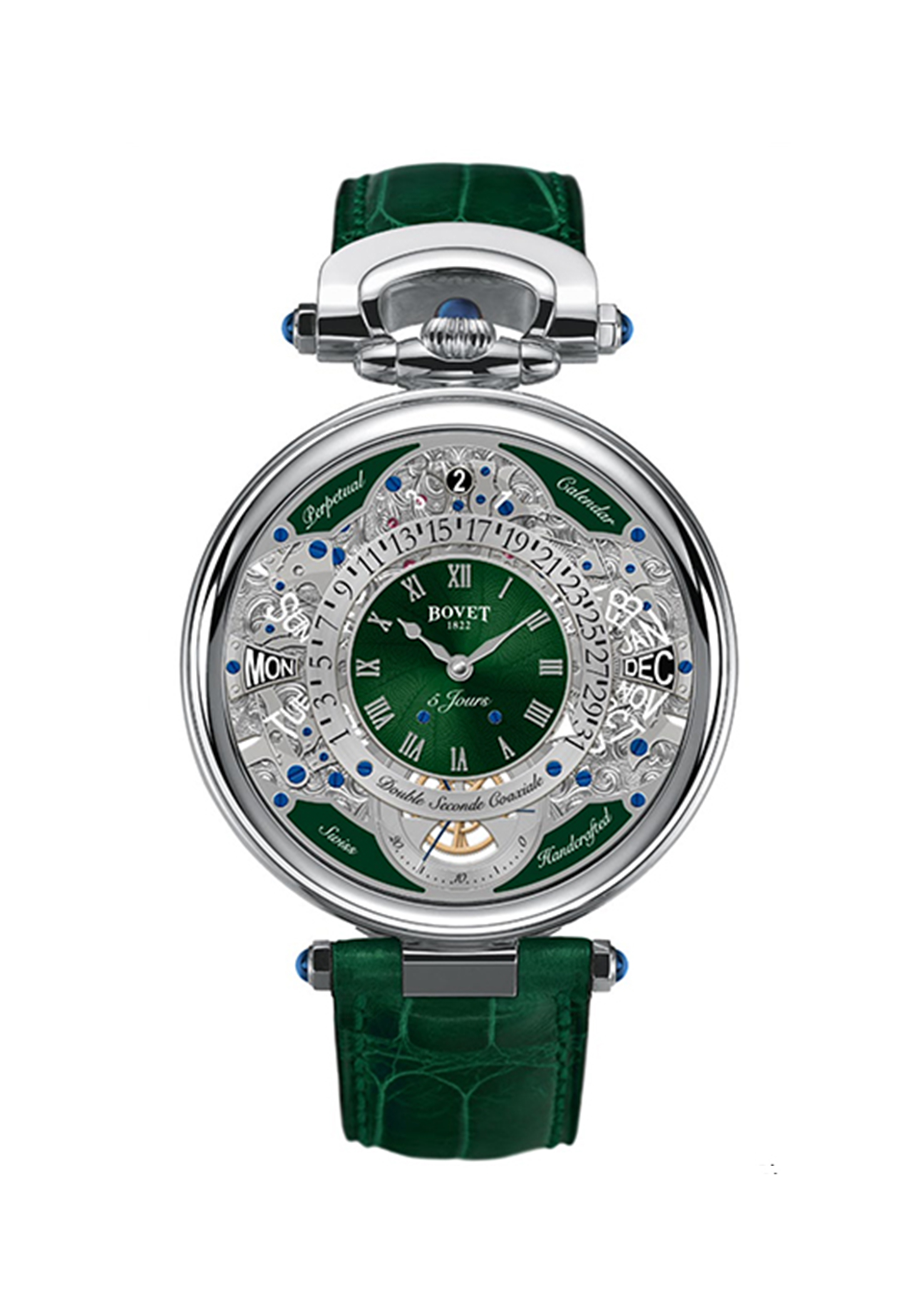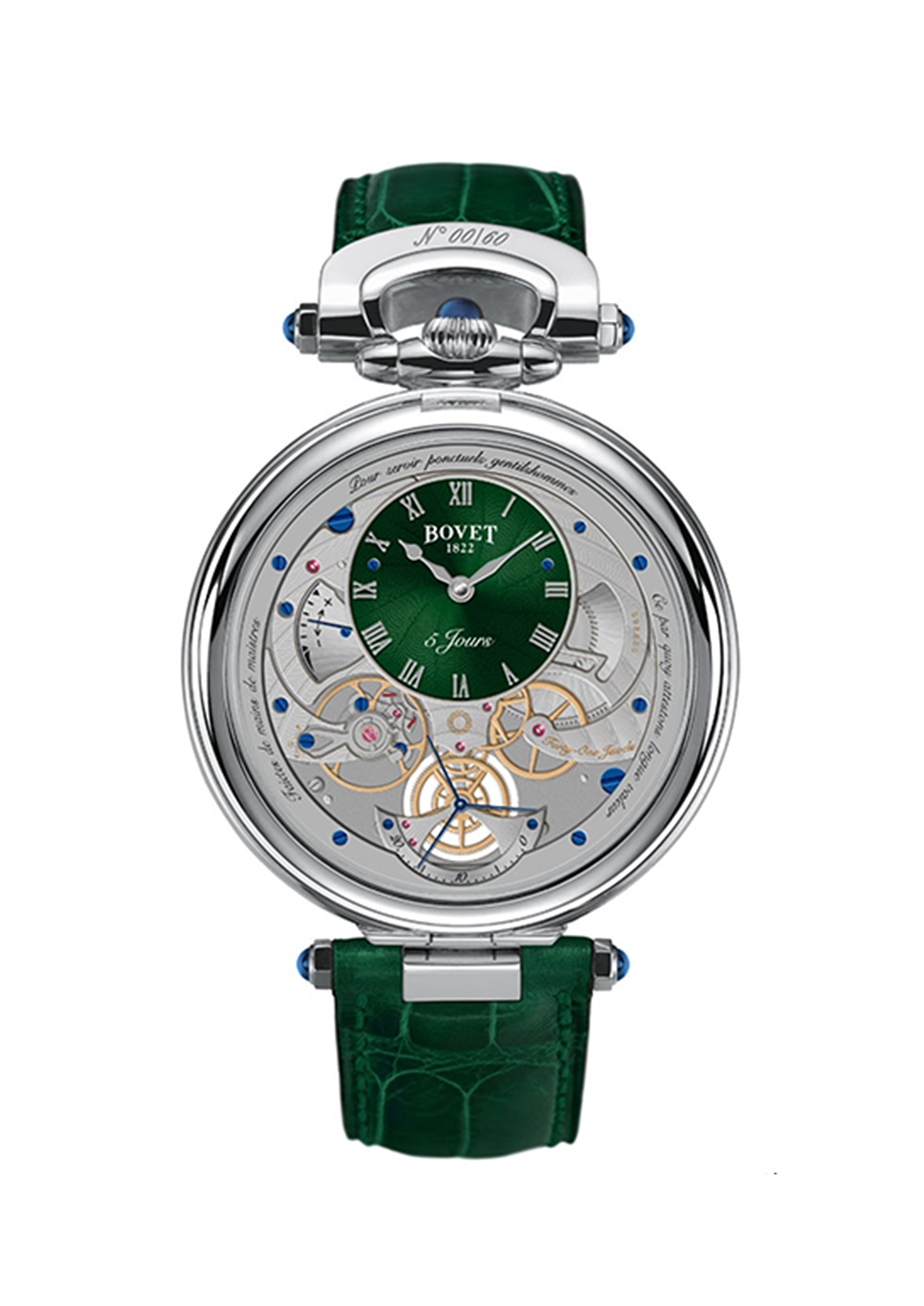 The secret?
Because BOVET is a manufacture, it has examined every piece and part and maximized its production and finishing to be as efficient as possible. For example, every part is angled, beveled, and finished to perfection. Now, the chronometry and power reserve gain of these operations on one component is minimal, but when every piece and part goes through this same attention to detail, it is possible to realize chronometry and power reserves that other companies can only dream about.
Now, as a result of everything that BOVET does in-house, 95% of each timepiece, you can see why the Swiss Made label is not exclusive enough.
That's why ever since BOVET verticalized its operation and brought every aspect of production in-house, the House has put "Swiss Handcrafted" on each of its timepieces.
You see, words do matter.