The Miss Audrey Sweet Art ONLY WATCH uses a completely new material and a new process to produce a dial that has never been seen before in watchmaking. One made from pure sugar.
Painstaking Process
The process of producing this dial is extraordinarily complex. First, in the center of the dial is a hand-painted fairy, filled with Super-LumiNova. After the miniature-painting process, the dial is covered with a protective lacquer, securing the art for eternity.
Then, the pure sugar crystals are prepared so their structure will not change when exposed to light or heat (no, the sugar crystals will not melt). The sweet crystals are chosen for size, then combined with a special environmentally-friendly orange paint – matching the theme color of this year's ONLY WATCH, and carefully hand-applied to the outside of the dial, which has already been coated with orange Super-LumiNova — by one of BOVET's miniature painting artisans. This demanding process, protected by a patent, leaves no room for error. One misstep and the entire process has to start again.
The result is an intriguing mix of texture and sparkle, unlike any other dial ever produced in the long history of watchmaking.
The special hands on the dial of the Sweet Art ONLY WATCH are a lovely, romantic touch. Uniquely shaped, they form a beautiful heart once every hour, as the minute hand catches up to the hour hand, reminding the wearer of this worthy cause.
Click image to try the Loupe.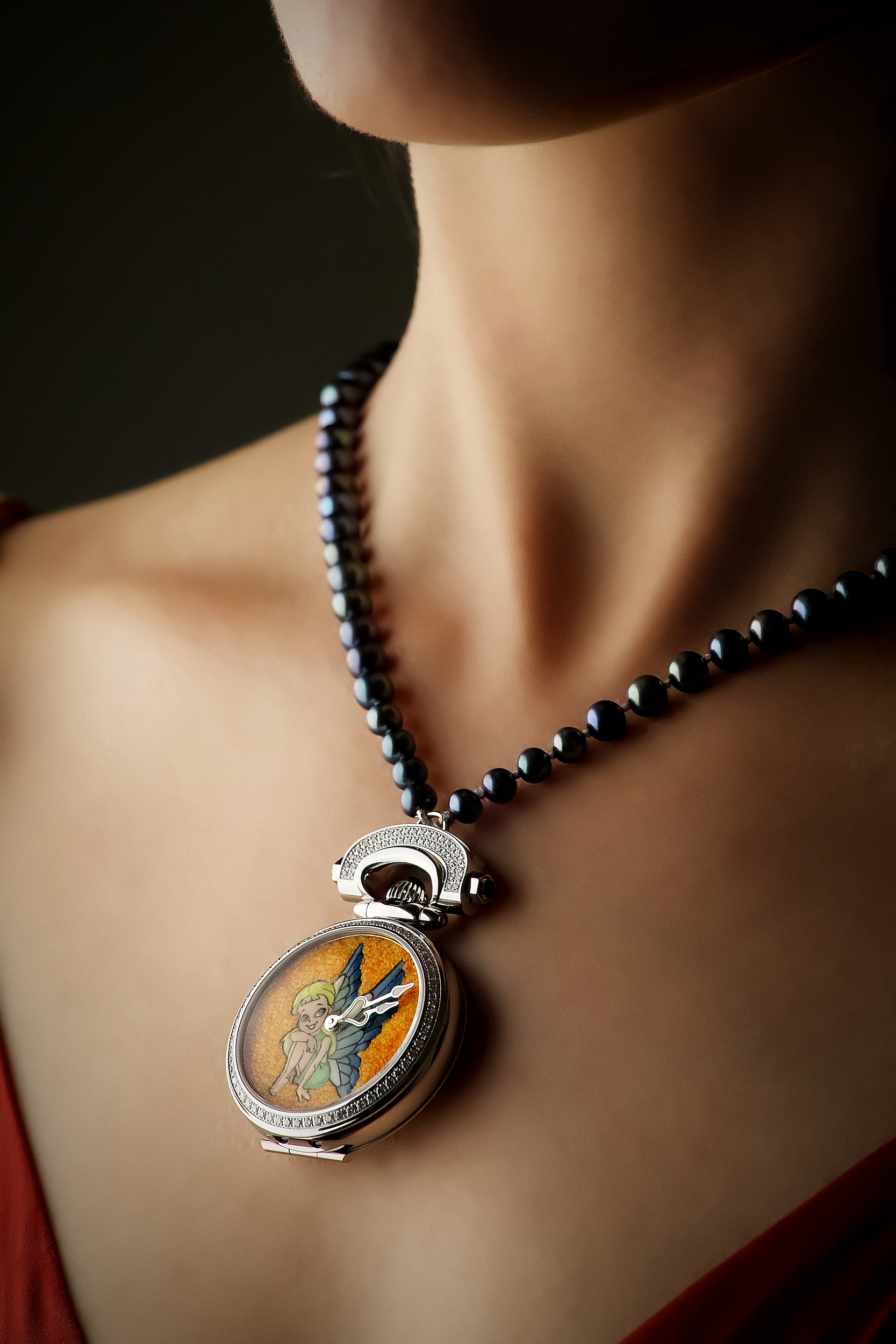 A Great Cause
Only Watch is a every-two-year charity auction of unique timepieces, with 99% of the proceeds going directly to fund research into Duchenne Muscular Dystrophy, a genetic disorder primarily affecting young boys. BOVET 1822 has been involved in ONLY WATCH since its very beginning, donating a unique timepiece made specifically for the auction.
"ONLY WATCH is a charity event near and dear to my heart," says Mr. Pascal Raffy, owner of BOVET 1822. "I have three children and I hope every day that they remain healthy. This is a great cause and I respect Luc Pettavino, who started and runs it, so much. The artisans at BOVET worked tirelessly to manufacture this miniature work of art, and I am proud to be a continuing part of ONLY WATCH."
For ONLY WATCH, BOVET has used this new technique with miniature painting to produce a lovely, magical Fairy, pairing métiers d'art with a child-like innocence
The Poetry of Time. At BOVET 1822, the measurement of time is a form of poetry, and the Miss Audrey Sweet Art ONLY WATCH represents a unique take on fine watchmaking.
Sugar is sweet, and so is the BOVET 1822 Miss Audrey Sweet Art ONLY WATCH.
Miss Audrey Sweet Fairy ONLY WATCH